Five of Our Favorite Gravel Bikes - Contender's Picks for Racing and Rambling Alike
A gravel bike is no longer a fad. Rather, it the bike most of us have been looking for. They cover pavement in comfort and control thanks to their wider tires which also extend the bike's use case. Simply point the bike where you want to go, and you can do it on a gravel bike.
Which gravel bike is best for you? We have our list of our favorite gravel bikes available here at Contender Bicycles.
It can be hard to find the right gravel bike for you. A few differences are that gravel bikes are typically a little more upright than conventional road bikes, leading to a more comfortable body position. The handling is often a little slower than a road bike to improve stability. Some gravel bikes have mounts for bags, lights, racks, and more. 
Gravel bikes come in the same materials as a standard road bike, as they are available in carbon, aluminum, steel, titanium, or more. They can also double as your favorite road bike, as many of them have geometry that's close to the best road bikes.
Gravel bikes are sometimes also called all-road bikes. They all have drop bar bikes with big tire clearances and geometry that aims to be more stable on dirt than traditional road bike.
Check out our list of our top gravel bikes to help you decide which bike is best for you and why.
OPEN UP
The gold standard - the OPEN UP - in gravel bikes is exactly what you make it up to be. Why's that? It comes as a frameset in four different colors as well as a ready to paint option that allows you to paint the bike however you like. Further, it's neutral road-oriented geometry means it is as good at being a road bike as it is a gravel bike.
What if you don't know how you want to build your bike? See our array of custom builds that ensure you find the right OPEN UP bike from the start.
See more about the OPEN UP on the Journal.
BMC URS
Among gravel bikes, the BMC URS decidedly leans more into mountain bike geometry than many other gravel bikes. It is a soft tail (10mm suspension!) carbon fiber bike with 45mm tire clearance that feels far more capable than other gravel bikes on singletrack and rocky terrain.
We dig the BMC URS not only for its unique geometry - long wheelbase for stability and a short stem for quicker handling - but because of the features. An integrated fork bumper, molded chainstay and bottom bracket protectors, and factory-applied frame protectors set the URS apart from the competition.
See our first look at the BMC URS bike on the Journal.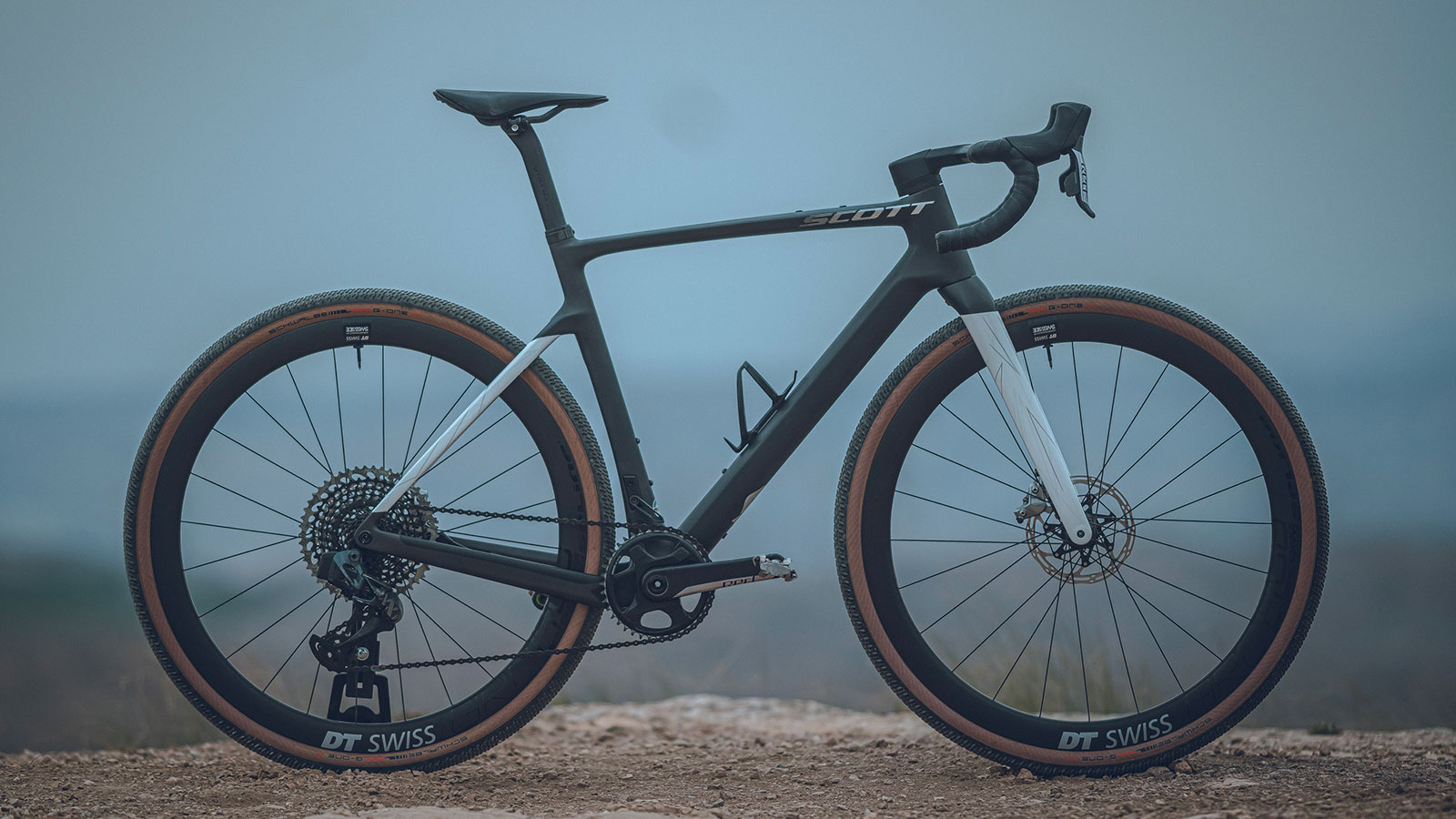 SCOTT Addict Gravel
The latest and greatest from SCOTT Sports is the Addict Gravel. New for 2022, this bike really doubles down on the brand's focus on racing and technology. It's like a beefed-up, rally car version of the Addict RC race bike, even down to the aerodynamic features built into the frame.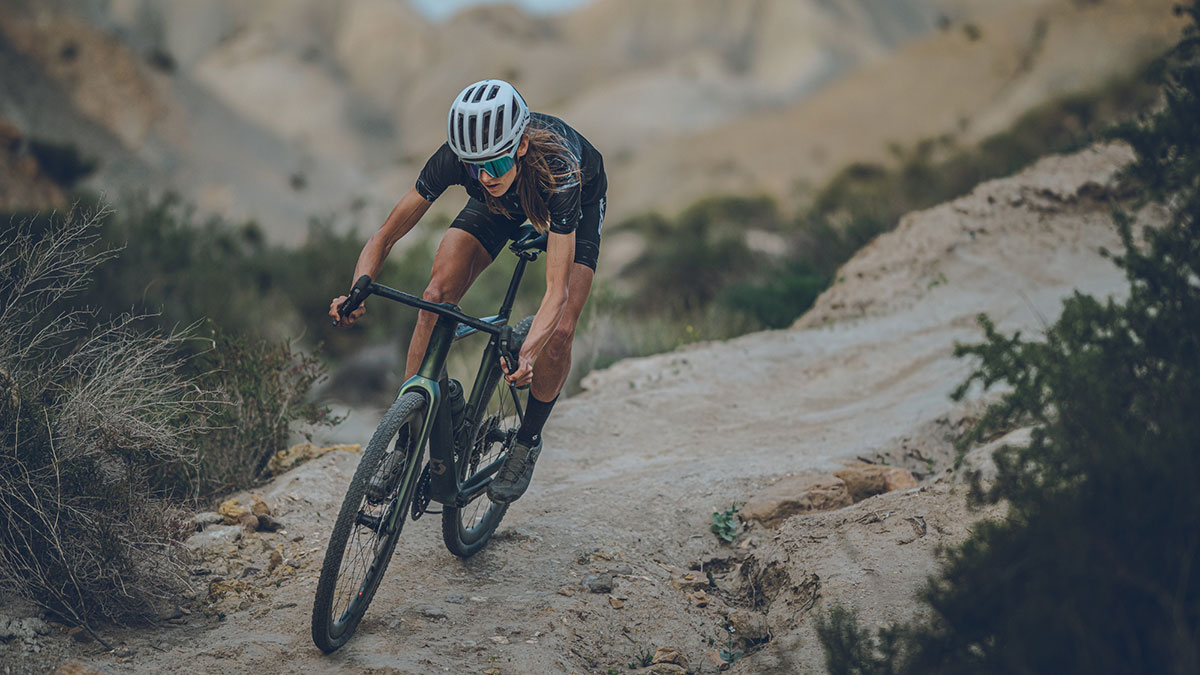 The new Addict Gravel offers a longer reach and more bottom bracket drop in an effort to increase handling predictability on loose terrain. But it also receives fully-internal cable routing, clearance for 45mm tires, and even more mounts.
Choose your Addict Gravel or women's-specific Contessa Addict Gravel to find exactly what you need. See the whole collection in our 2022 SCOTT Gravel Guide.
Pinarello Grevil
Unapologetically Pinarello is how we describe the Pinarello Grevil bike. The bike offers seriously precise handling, outstanding acceleration, and design that is at once curvaceous and linear in a way that only Pinarello masters. Two carbon layup options offer an ultralight Grevil+ alongside the Grevil.
The Grevil is a favorite for its consistency. Find it as either a complete bike or as a frameset and build it up exactly as you want. 700c or 650b wheels with just about any drivetrain you want.
See more on the Pinarello Grevil bike on the journal. 
Santa Cruz Stigmata & Juliana Quincy
Two bikes, yes, but the same geometry and largely the same build kits. Between how the bike feels out on the road and its feature set, the Santa Cruz Stigmata is built to feel at home in most situations. The Stigmata is refined and does so to make the bike simple to service and ride.
But what about the Juliana Quincy? It has the same frame, largely the same build kits, just with women's specific touch points and a unique paint scheme. Two bikes, one great feature set.
See five of our favorite things about the Santa Cruz Stigmata on the journal.
BONUS: 3T Exploro Racemax
There is no escaping that the Exploro RaceMax is fueled by numbers. Its aero tubing is shaped by a desire for aero advantage as well as a desire to fit tires optimized by RAM and WAM. Even its geometry is a triumph of capability with little to no compromises. And while many things in the world influenced by numbers tend to lack personality, the Exploro RaceMax is brimming with it.
The Exploro RaceMax won't be the ideal gravel bike for everyone, but its lively and agile demeanor is like few bikes on the market. Like the OPEN UP, it is available with default frame colors or a ready-to-paint option.
See our 3T Exploro Racemax review and video on the journal.
Conclusion
See anything we missed? Let us know in the comments, via email, by phone, or stop by the shop. We'd love to hear about it.
---
0 comments