---
Product Description
Introducing the SCOTT Spark ST 900, the bike that's guaranteed to take your riding experience to the next level! With its integrated suspension technology, this bike provides you with the smoothest ride possible, making even the roughest terrain feel like butter.
The Flex Pivot and Adjustable head angle ensure that your ride is not only smooth but also customizable to your liking. Whether you want to tackle steep climbs or blazing descents, this bike has got your back!
And let's not forget about the RockShox Pike Ultimate Air Charger 3 RC2 fork, featuring Butter Cups Damper HSC-LSC-LSR adjustable and 15x110mm Maxle Lite. With a 44mm offset and tapered steerer, this fork is designed to handle anything you throw at it.
The Fox Float x Nude PE EVOL Piggy Back Trunnion SCOTT custom rear shock is a game-changer with 3 modes: Climb-Traction Control-Descend. It doesn't matter if you're pedaling uphill, cruising on flat terrain, or descending at breakneck speeds – this bike has got you covered.
So what are you waiting for? Take a ride on the Spark Carbon HMF and experience the ultimate ride of your life!
Specifications
| Build Spec | SRAM GX AXS | SRAM X01 AXS | SRAM XX1 AXS | SRAM XO T-SPEC | SRAM XX T-SPEC |
| --- | --- | --- | --- | --- | --- |
| Shifters | SRAM GX Eagle AXS Right Hand Controller, Electronic 12 Speed Shifter Grey | Eagle AXS Right Hand Controller, Electronic 12 Speed Shifter Silver | Eagle AXS Right Hand Controller, Electronic 12 Speed Shifter Silver | SRAM AXS POD 2 Button | SRAM AXS POD 2 Button |
| Crankset | GX 170mmSRAM GX Eagle DUB Crankset - Boost Lunar Grey, 170mm/32t | SRAM X01 Eagle Boost Crankset - 170mm, 12-Speed, 32t, Direct Mount, DUB Spindle Interface, Lunar/Polar, C2 | SRAM Crankset XX1 Eagle DUB 12s 170 w Direct Mount 34T X-SYNC 2 Chainring Grey C2 | X0 T-Type Eagle Transmission AXS Groupset (RD w/Battery/Charger/Cord | XX T-Type Eagle Transmission AXS Groupset (RD w/Battery/Charger/Cord, EC POD Ult, FC XX Q174 CL55 DUB MTB Wide 165 w/DM 32t CR w/2 Guards, CN 126l, CS XS-1297 10-52t) |
| Front Derailleur | none | none | none | none | none |
| Rear Derailleur | SRAM GX Eagle AXS Rear Derailleur 12-Speed Long Cage 52t Max Lunar | SRAM Rear Derailleur X01 Eagle AXS 12 speed Max 52T Lunar | SRAM, XX1 Eagle AXS, Rear Derailleur, Speed: 12, Cage: Long, Black | included | included |
| Brakes | XT BR-M8020 | XT BR-M8020 | XT BR-M8020 | XT BR-M8020 | XT BR-M8020 |
| Bottom Bracket | DUB | DUB | DUB | DUB | DUB |
| Chain | SRAM GX Eagle 12-Speed Chain 126 links With PowerLock, Silver/Gray | SRAM X01 Eagle Chain - 12-Speed, 126 Links, Silver | SRAM, XX1 Eagle AXS, Rear Derailleur, Speed: 12, Cage: Long, Black | included | included |
| Grips/Bar Tape | Syncros | Syncros | Syncros | Syncros | Syncros |
| Cassette | SRAM GX Eagle XG-1275 Cassette 12-Speed 10-52t Black XD Driver Body | SRAM X01 Eagle XG-1295 Cassette - 12-Speed, 10-52t, Black, For XD Driver Body | Sram XG-1299 XX1 Eagle 10-52T Cassette Rainbow | included | included |
| Brake Rotors | Shimano RT-MT800 Disc Brake Rotor 180MM, | Shimano RT-MT800 Disc Brake Rotor 180MM, | Shimano RT-MT800 Disc Brake Rotor 180MM, | Shimano RT-MT800 Disc Brake Rotor 180MM, | Shimano RT-MT800 Disc Brake Rotor 180MM, |
| Batteries/Wires | SRAM AXS battery | SRAM AXS battery | SRAM AXS battery | SRAM AXS battery | SRAM AXS battery |
| Charger | SRAM CHARGER | SRAM CHARGER | SRAM CHARGER | SRAM CHARGER | SRAM CHARGER |
Geometry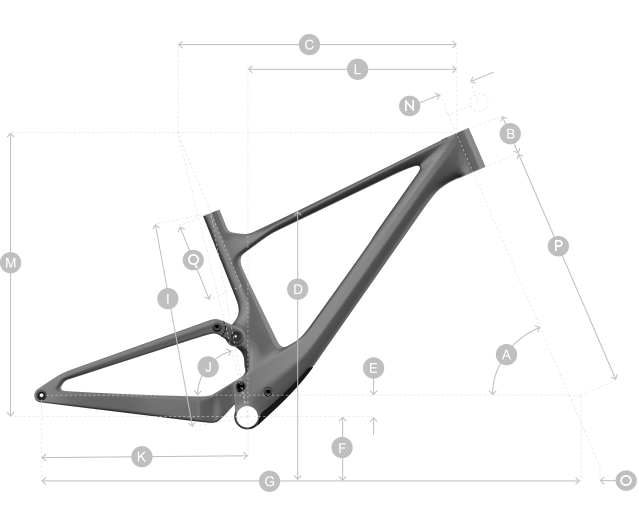 | | | | | | |
| --- | --- | --- | --- | --- | --- |
| | | S | M | L | XL |
| A | HEAD TUBE ANGLE | 65.8 ° | 65.8 ° | 65.8 ° | 65.8 ° |
| B | HEAD TUBE LENGTH | 90.0 MM | 90.0 MM | 105.0 MM | 115.0 MM |
| C | TOP TUBE HORIZONTAL | 561.0 MM | 589.0 MM | 613.0 MM | 641.0 MM |
| D | STANDOVER HEIGHT | 759.0 MM | 767.0 MM | 778.0 MM | 801.0 MM |
| E | BB OFFSET | -43.5 MM | -43.5 MM | -43.5 MM | -43.5 MM |
| F | BB HEIGHT | 331.5 MM | 331.5 MM | 331.5 MM | 331.5 MM |
| G | WHEEL BASE | 1,145.0 MM | 1,174.0 MM | 1,205.0 MM | 1,236.0 MM |
| I | BB CENTER TO TOP OF SEATTUBE | 415.0 MM | 440.0 MM | 490.0 MM | 540.0 MM |
| J | SEAT ANGLE | 75.7 ° | 75.9 ° | 76.4 ° | 76.7 ° |
| K | CHAINSTAY | 437.5 MM | 437.5 MM | 437.5 MM | 437.5 MM |
| L | REACH | 410.0 MM | 440.0 MM | 470.0 MM | 500.0 MM |
| M | STACK | 607.5 MM | 607.5 MM | 617.7 MM | 627.0 MM |
| N | STEM LENGTH | 50.0 MM | 60.0 MM | 60.0 MM | 70.0 MM |
| 0 | TRAIL | 107.0 MM | 107.0 MM | 107.0 MM | 107.0 MM |
| P | FORK LENGTH | 540.0 MM | 540.0 MM | 540.0 MM | 540.0 MM |
| Q | MAXIMUM SEATPOST INSERTION | 150.0 MM | 175.0 MM | 225.0 MM | 275.0 MM |
| R | CRANK LENGTH | 170.0 MM | 175.0 MM | 175.0 MM | 175.0 MM |
---
Request Info
SCOTT Spark ST 900 Tuned HMF CUSTOM BUILDER
Online Enquiries
Phone: 801.364.0344
Locations
Salt Lake City
989 East 900 South, Salt Lake City, UT 84105, USA
Phone: (801) 364-0344
MON-FRI: 9am to 7pm
SATURDAY: 9am to 6pm
SUNDAY: Closed
Park City
1352 White Pine Canyon Road Park City, UT 84060
Phone: (435) 214-7287
MON-FRI: 10am to 6pm
SATURDAY: 10am to 5pm
SUN: Closed