---
Product Description
Our bike rental service includes essential equipment for your convenience. Each bike comes with an adjustable helmet, although you're welcome to use your own if you prefer.
The bikes are fitted with either flat or SPD pedals, however, if you have a particular preference or are more comfortable with your own pedals, please feel free to use those.
To facilitate minor repairs, a flat tire repair kit is supplied with each bike. If you utilize the included tube, please note that it must be replaced at your own expense (~$10).
Each bike is equipped with a single bottle cage. Remember to bring a beverage to stay hydrated during your ride.
We are glad to adjust the bike to your saddle height and install pedals. We are not able to match a bike fit or swap parts.
Kindly return the bike on the same day as the end date before our closing time. Bikes cannot be returned at open the following day without an additional day rental fee.
Geometry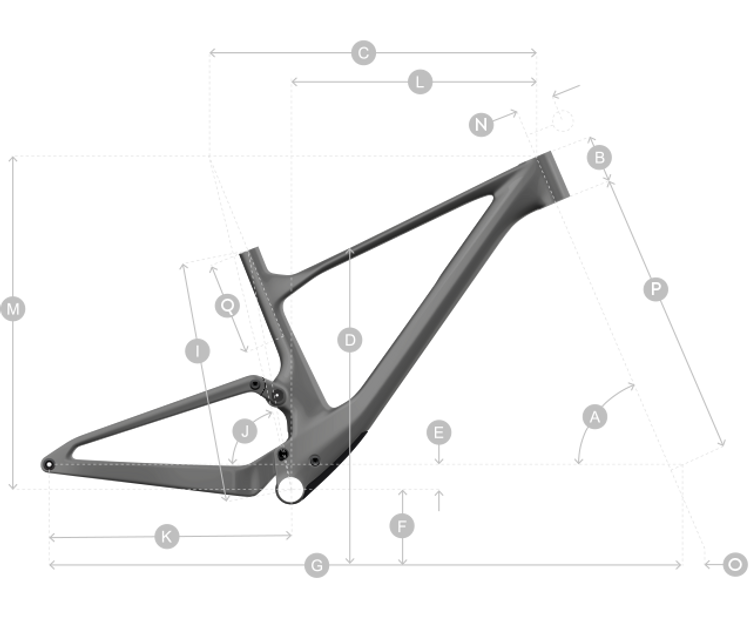 | | | | | | |
| --- | --- | --- | --- | --- | --- |
| | | S | M | L | XL |
| A | head tube angle | 65.8 ° | 65.8 ° | 65.8 ° | 65.8 ° |
| B | head tube length | 90.0 mm | 90.0 mm | 105.0 mm | 115.0 mm |
| C | top tube horizontal | 561.0 mm | 589.0 mm | 613.0 mm | 641.0 mm |
| D | standover height | 759.0 mm | 767.0 mm | 778.0 mm | 801.0 mm |
| E | BB offset | -43.5 mm | -43.5 mm | -43.5 mm | -43.5 mm |
| F | BB height | 331.5 mm | 331.5 mm | 331.5 mm | 331.5 mm |
| G | wheel base | 1,145.0 mm | 1,174.0 mm | 1,205.0 mm | 1,236.0 mm |
| H | BB center to toptube center | | | | |
| I | BB center to top of seattube | 415.0 mm | 440.0 mm | 490.0 mm | 540.0 mm |
| J | seat angle | 75.7 ° | 75.9 ° | 76.4 ° | 76.7 ° |
| K | chainstay | 437.5 mm | 437.5 mm | 437.5 mm | 437.5 mm |
| L | reach | 410.0 mm | 440.0 mm | 470.0 mm | 500.0 mm |
| M | stack | 607.5 mm | 607.5 mm | 617.7 mm | 627.0 mm |
| N | stem length | 50.0 mm | 60.0 mm | 60.0 mm | 70.0 mm |
| O | trail | 107.0 mm | 107.0 mm | 107.0 mm | 107.0 mm |
| P | Fork length | 540.0 mm | 540.0 mm | 540.0 mm | 540.0 mm |
| Q | Maximum Seatpost Insertion | 150.0 mm | 175.0 mm | 225.0 mm | 275.0 mm |
| R | Crank Length | 170.0 mm | 175.0 mm | 175.0 mm | 175.0 mm |
---