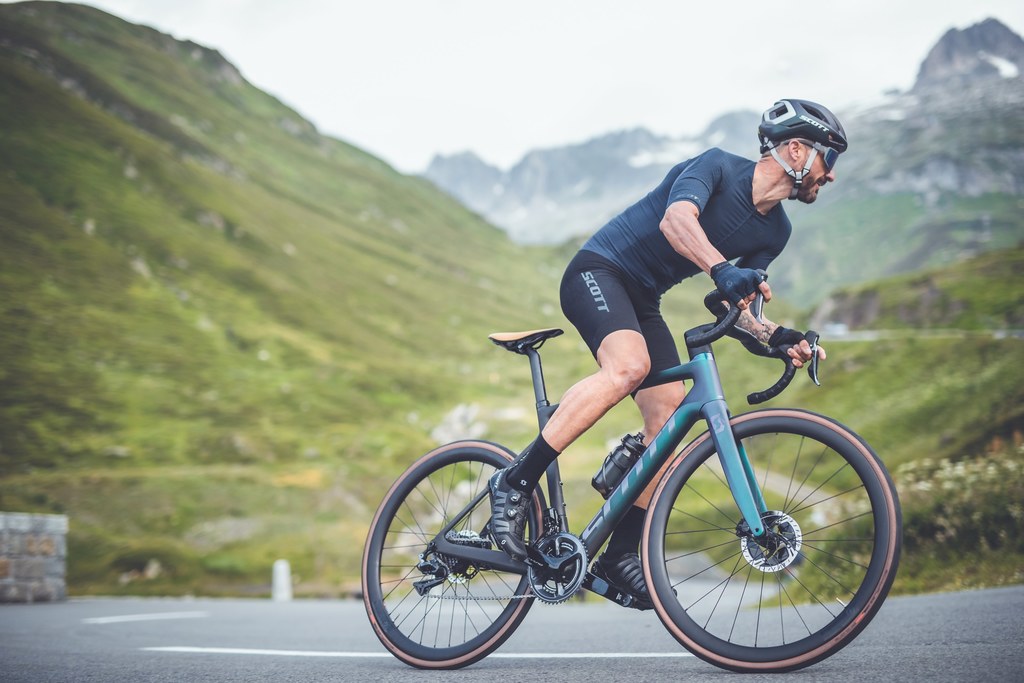 2021 SCOTT Addict eRIDE 10
Ride longer, higher and steeper on the all new 2021 SCOTT Addict eRIDE 10 electric road bike. A bicycle so light and responsive you might forget you're riding a pedal assist machine.
---
Product Description
Checking in at just 25.5 pounds and built to look, feel and ride like the famous SCOTT Addict family of bikes, the 2021 SCOTT Addict eRIDE 10 is not meant to cheapen your ride. Rather - the SCOTT Addict eRIDE 10 extends your rides and improves your experience.
Starting with the Addict Disc HMX carbon frame and fork, the 2021 SCOTT Addict eRIDE 10 was engineered to be the best electric road bike on the market. The Mahle motor and battery are so small and streamlined that you might be the only one on the road realizing you're riding an electric bike. The Mahle system is bluetooth compatible and connects wirelessly to your smartphone to display and sync all ride data.
With a Shimano Ultegra Di2 Disc 22 Speed drivetrain, you'll experience a fast, responsive and fully engaged ride with nimble shifting from gear to gear and nary a skipped gear as you transition from climbing to sprinting and back.
The first electric road bike to have completely integrated wires, the SCOTT Addict eRIDE 10 is a crisp, clean and fast-looking ride. Cables are routed internally through the Syncros Creston handlebar into the stem, fork and downtube.
The Mahle motor provides a boost of up to 25 miles per hour, after which it switches off and you're riding a regular bike. Three levels of pedal assist - Eco, Mid Power and Full Power - allow you to turn up the juice when desired.
An optional range-extending external battery pack mounts to the frame just like a water bottle cage and lets you stretch out the ride from a 50 mile jaunt to 75 or 100 miles depending on the road and pedal assist level used. Just plug it in and ride - farther.
Top end components complement the incredible drive unit. Syncros Capital 1.0 40e wheels and Schwalbe Pro One tires create the perfect go-fast, go-steady connection to the road, enabling you to put the hammer down with confidence knowing you'll get a dependable response.
The 2021 SCOTT Addict eRIDE 10 doesn't make cycling easier. The 2021 SCOTT Addict eRIDE 10 makes cycling better with longer rides, fresher legs and more horizons reached.
Visit the shop, give us a call, or send us an email anytime to info@contenderbicycles.com.
Specifications
Frame

Addict eRIDE Disc HMX Endurance Geometry / Replaceable Derailleur Hanger Fully Internal Cable Routing
Fork

Addict eRIDE HMX Flatmount Disc 1 1/4"-1 1/2" Eccentric Carbon steerer
Drive Unit

Mahle Motor Hub drive 40Nm max Torque / EU: 25kmh / US: 20mph
Battery

Mahle 36V-250W
Display

Mahle iWoc Bluetooth / Dedicated Smartphone app
Charger

Mahle 100-240V-2A
Rear Derailleur

Shimano Ultegra Di2 RD-R8050-SS 22 Speed Electronic Shift System
Front Derailleur

Shimano Ultegra Di2 FD-R8050 Electronic Shift System
Shifters

Shimano Ultegra ST-R8070 22 Speed Electronic Shift System
Crankset

Shimano Ultegra FC-R8000 Hollowtech II 50x34 T
BB-Set

Shimano SM-BB72-41B
Chain

Shimano Ultegra CN-HG701-11
Cassette

Shimano Ultegra CS-R8000 11-32
Brakes

Shimano BR-R8070 Hyd.Disc
Rotor

160/F SM-RT800 CL and 160/R SM-RT86 6B rotor
Handlebar

Syncros Creston iC 1.5 Compact Alloy
H'stem

Syncros RR iC 1 1/4"
Seatpost

Syncros Duncan 1.0 Aero
Seat

Syncros Savona 2.5 V-Concept
Headset

Syncros Addict RC Integrated
Wheelset

Syncros Capital 1.0 40e Disc 24 Front /32 Rear Syncros Fr thru-axle Re Bolt on
Front Tire

SCHWALBE PRO ONE 30x622
Rear Tire

Schwalbe ONE Race-Guard Fold 700x30C
Approx weights in KG

11.60
Approx weights in LBS

25.57
Max. System Weight

120 kg The overall weight includes the bike the rider the equipment and possible additional luggage.
Geometry
| | | | | | | XS/49 | | S/52 | | M/54 | | L/56 | | XL/58 | | | | | |
| --- | --- | --- | --- | --- | --- | --- | --- | --- | --- | --- | --- | --- | --- | --- | --- | --- | --- | --- | --- |
| A | head tube angle | | | | | 71.0 ° | | 72.0 ° | | 72.5 ° | | 73.0 ° | | 73.3 ° | | | | | |
| B | head tube length | | | | | 105.0 mm | 4.1 in | 125.0 mm | 4.9 in | 145.0 mm | 5.7 in | 165.0 mm | 6.5 in | 185.0 mm | 7.3 in | | | | |
| C | top tube horizontal | | | | | 515.0 mm | 20.3 in | 530.0 mm | 20.9 in | 545.0 mm | 21.5 in | 560.0 mm | 22.0 in | 575.0 mm | 22.6 in | | | | |
| D | standover height (TT center) | | | | | 752.0 mm | 29.6 in | 776.0 mm | 30.6 in | 799.0 mm | 31.5 in | 822.0 mm | 32.4 in | 843.0 mm | 33.2 in | | | | |
| E | BB offset | | | | | -70.0 mm | -2.8 in | -70.0 mm | -2.8 in | -70.0 mm | -2.8 in | -70.0 mm | -2.8 in | -70.0 mm | -2.8 in | | | | |
| F | BB height | | | | | 279.0 mm | 11.0 in | 279.0 mm | 11.0 in | 279.0 mm | 11.0 in | 279.0 mm | 11.0 in | 279.0 mm | 11.0 in | | | | |
| G | wheel base | | | | | 995.1 mm | 39.2 in | 997.0 mm | 39.3 in | 1,002.6 mm | 39.5 in | 1,007.5 mm | 39.7 in | 1,014.8 mm | 40.0 in | | | | |
| H | BB center to toptube center | | | | | 435.0 mm | 17.1 in | 460.0 mm | 18.1 in | 485.0 mm | 19.1 in | 510.0 mm | 20.1 in | 535.0 mm | 21.1 in | | | | |
| I | BB center to top of seattube | | | | | 490.0 mm | 19.3 in | 520.0 mm | 20.5 in | 540.0 mm | 21.3 in | 560.0 mm | 22.0 in | 580.0 mm | 22.8 in | | | | |
| J | seat angle | | | | | 75.0 ° | | 74.5 ° | | 74.0 ° | | 73.5 ° | | 73.1 ° | | | | | |
| K | chainstay | | | | | 422.0 mm | 16.6 in | 422.0 mm | 16.6 in | 422.0 mm | 16.6 in | 422.0 mm | 16.6 in | 422.0 mm | 16.6 in | | | | |
| L | reach | | | | | 373.2 mm | 14.7 in | 377.0 mm | 14.8 in | 380.9 mm | 15.0 in | 384.3 mm | 15.1 in | 388.6 mm | 15.3 in | | | | |
| M | stack | | | | | 529.1 mm | 20.8 in | 551.6 mm | 21.7 in | 572.4 mm | 22.5 in | 593.3 mm | 23.4 in | 613.6 mm | 24.2 in | | | | |
| N | stem length | | | | | 90.0 mm | 3.5 in | 100.0 mm | 3.9 in | 110.0 mm | 4.3 in | 120.0 mm | 4.7 in | 120.0 mm | 4.7 in | | | | |
| 0 | trail | | | | | | | | | | | | | | | | | | |
---
Request Info
2021 Scott Addict eRIDE 10
Online Enquiries
Phone: 801.364.0344
Locations
Salt Lake City
989 East 900 South, Salt Lake City, UT 84105, USA
Phone: (801) 364-0344
MON-FRI: 9am to 7pm
SATURDAY: 9am to 6pm
SUNDAY: Closed
Park City
1352 White Pine Canyon Road Park City, UT 84060
Phone: (435) 214-7287
TUE-FRI: 10am to 6pm
SATURDAY: 10am to 5pm
SUN & MON: Closed