---
Product Description
Pinarello asked their designers and engineers to transfer the amazing riding experience of the DOGMA F12 to the new Prince. The results speak for themselves in a bike with technical characteristics and performance standards that outperform many of the high-end road bikes on the market. 
Thanks to its Toray T700 UD carbon fiber frame and fork construction, TiCR cable integration system, and a more aerodynamic fork and downtube, the new Prince has become a real alternative to the range-topping Dogma F12. 
The SRAM Force AXS drivetrain and Zipp 303 S carbon wheelset further enable the Pinarello Prince Disc Force AXS to ride like a bike with a sticker price a few steps up the ladder. 
Legendary Italian design and performance are available to those lusting after Dogma performance within a relative budget in the Pinarello Prince Disc Force AXS.
KEY FEATURES
Prince Disc TiCR B214 Black/Blue

SRAM Force eTap AXS Drivetrain

Zipp 303 S Carbon Wheelset

Most TiCR Alloy Bar and Stem 

Most Lynx Saddle

Schwalbe One Tires
Specifications
FRAME SET
TorayCa T700 UD, TiCR™ cable routing, Italian BB
FORK
prince onda fork with forkflap™, 1.5' upper and lower steerer
CRANKSET AND CHAINRINGS
Sram Force AXS
FRONT DERAILLEUR
Sram Force AXS
REAR DERAILLEUR
Sram Force AXS
CASSETTE
Sram Force AXS XG - 1270
CHAIN
Sram Force AXS Flattop Chain
BOTTOM BRACKET
Sram Dub Italian
FRONT BRAKE
Sram Force AXS Flat Mount
REAR BRAKE
Sram Force AXS Flat Mount
HANDLEBAR
Jaguar XA Aero Di2
STEM
Tiger Aero Alu TiCR
BAR TAPE
MOST Bar Tape
SADDLE
Most Lynx Aircross FEC Alloy Large 145mm
SEATPOST
Pinarello Aero Seatpost
SEAT CLAMP
fsc frontal seat clamp
WHEELSET
Zipp 303 S Disc
TIRES
Schwalbe One 28mm
AXLES
pinarello axle 12x100 & 12x142, tool free removal
Geometry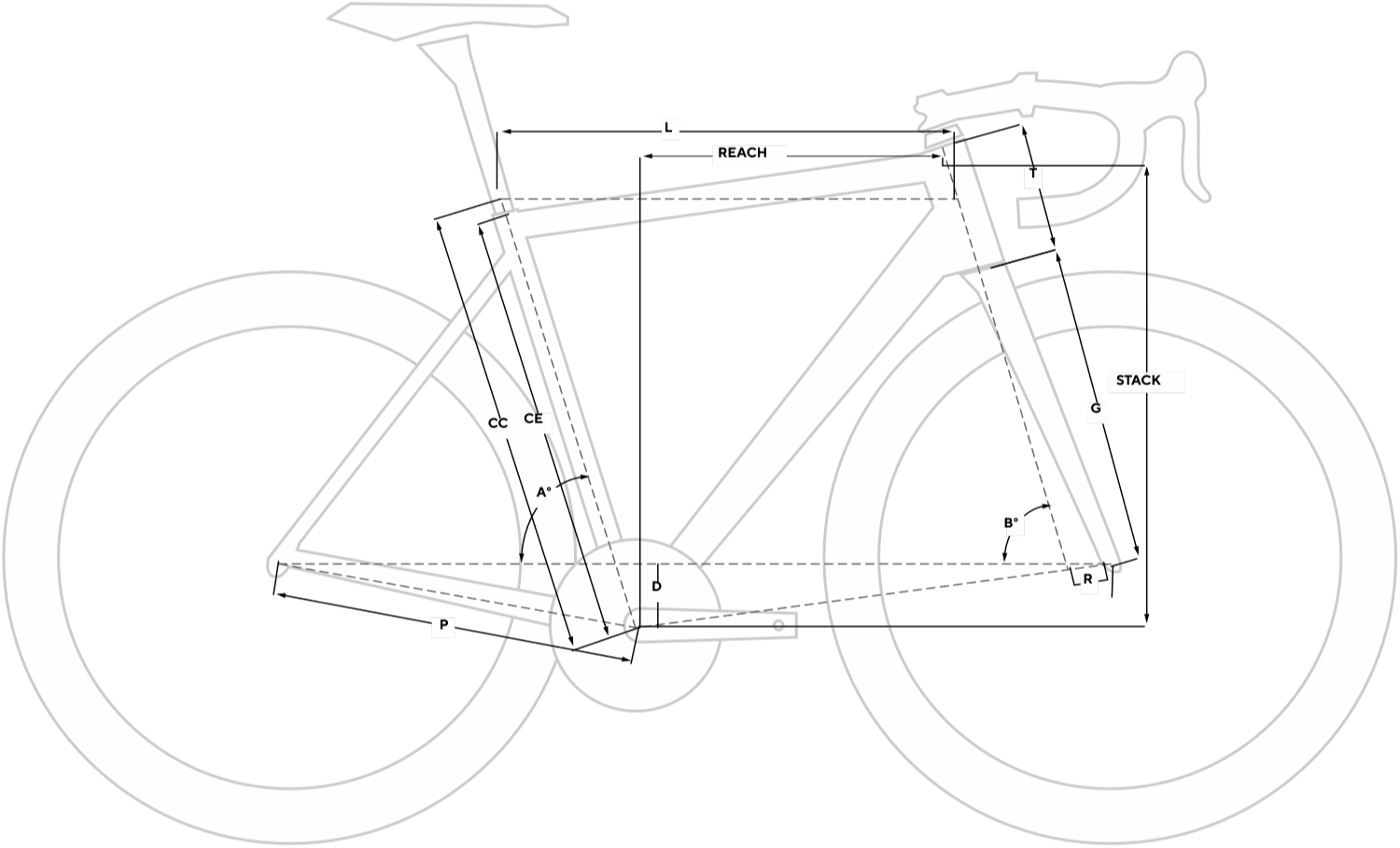 | | | | | | | | | | | | |
| --- | --- | --- | --- | --- | --- | --- | --- | --- | --- | --- | --- |
| CE | CC | L | A [°] | B [°] | P | T | D | R | G | REACH | STACK |
| 425 | 430 | 505 | 74.5 | 71 | 408 | 106 | 67 | 52 | 373 | 356 | 513 |
| 440 | 460 | 515 | 74.25 | 71.75 | 408 | 108 | 72 | 52 | 373 | 364 | 523 |
| 470 | 490 | 525 | 74 | 72.25 | 408 | 116 | 72 | 52 | 373 | 370 | 532 |
| 495 | 515 | 535 | 73.75 | 72.75 | 408 | 124 | 72 | 47 | 373 | 376 | 543 |
| 510 | 530 | 545 | 73.5 | 72.75 | 408 | 135 | 72 | 47 | 373 | 380 | 554 |
| 525 | 545 | 557 | 73.25 | 73 | 410 | 151 | 72 | 47 | 373 | 385 | 570 |
| 540 | 560 | 565 | 73.25 | 73 | 410 | 168 | 72 | 47 | 373 | 388 | 586 |
| 560 | 580 | 580 | 72.75 | 73.25 | 410 | 193 | 67 | 47 | 373 | 392 | 606 |
| 590 | 600 | 600 | 72.5 | 73.25 | 410 | 231 | 67 | 47 | 373 | 398 | 642 |
---
Request Info
Pinarello Prince Disc Force AXS
Online Enquiries
Phone: 801.364.0344
Locations
Salt Lake City
989 East 900 South, Salt Lake City, UT 84105, USA
Phone: (801) 364-0344
MON-FRI: 9am to 7pm
SATURDAY: 9am to 6pm
SUNDAY: Closed
Park City
1352 White Pine Canyon Road Park City, UT 84060
Phone: (435) 214-7287
MON-FRI: 10am to 6pm
SATURDAY: 10am to 5pm
SUN: Closed