2021 Scott Axis eRIDE 10 Men
2021 Scott Axis eRIDE 10 Men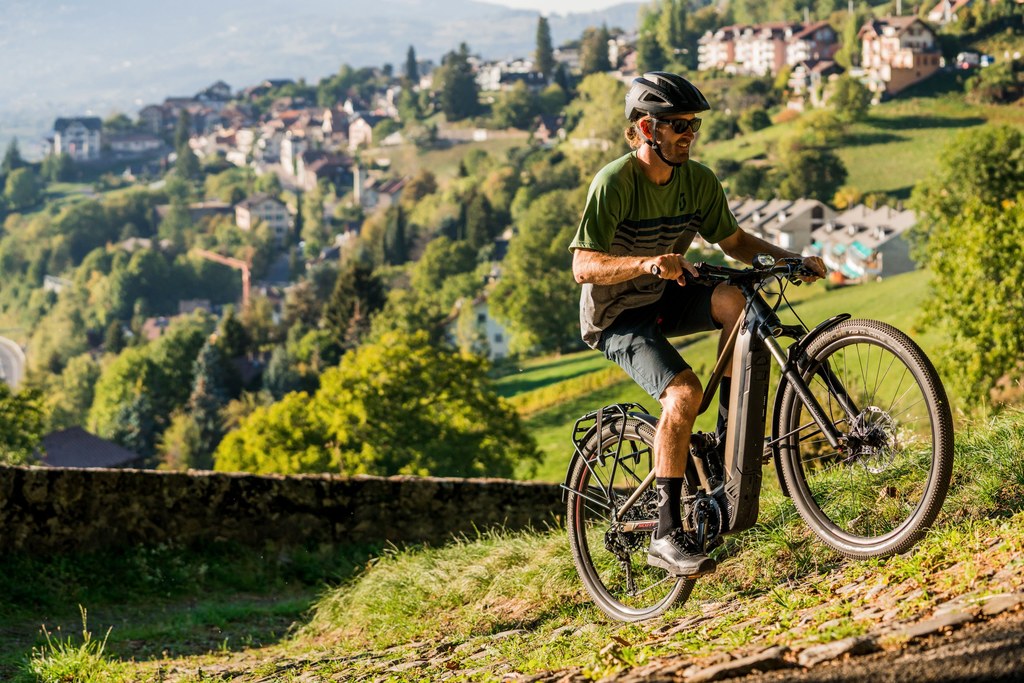 2021 SCOTT Axis eRIDE 10 Men
What more could you ask for in an electric pedal assist bike? The all new 2021 SCOTT Axis eRIDE 10 offers comfort, functionality and style in a city-friendly, trail-ready ride.
Highlights
SCOTT History of Innovation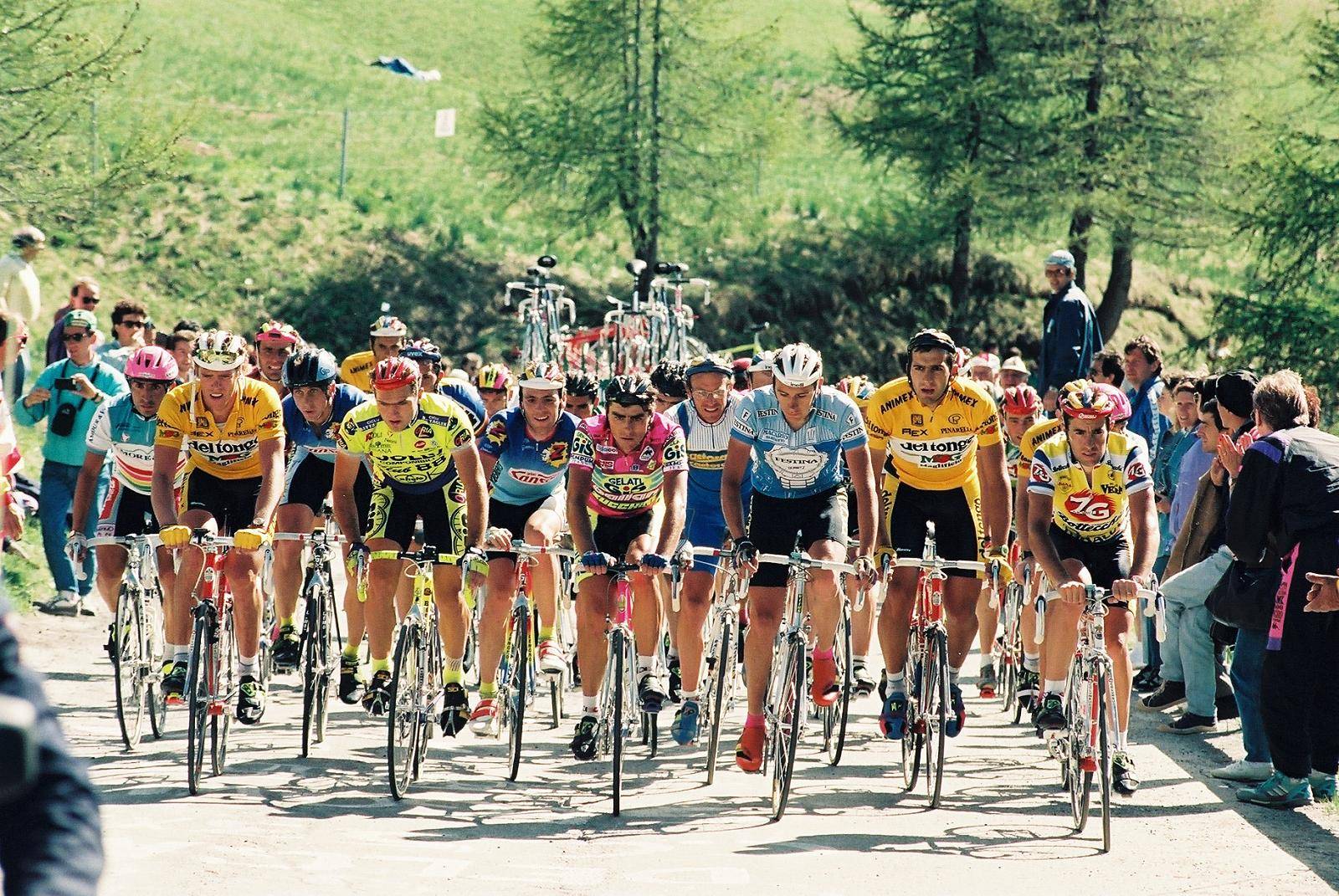 田所 佐史 tadokoro, CC BY-SA 2.0 <https://creativecommons.org/licenses/by-sa/2.0>, via Wikimedia Commons
It started out with a bang. In 1958 an engineer and ski fanatic in Sun Valley, Idaho wanted something better than the bamboo or steel ski poles he'd been using for years. Ed Scott introduced an aluminum pole that changed the game.
SCOTT Sports was born and the innovations haven't stopped. SCOTT has branched out from its roots in the snow, obviously, and we at Contender Bicycles have been a part of several new products, developments, and rollouts over the years.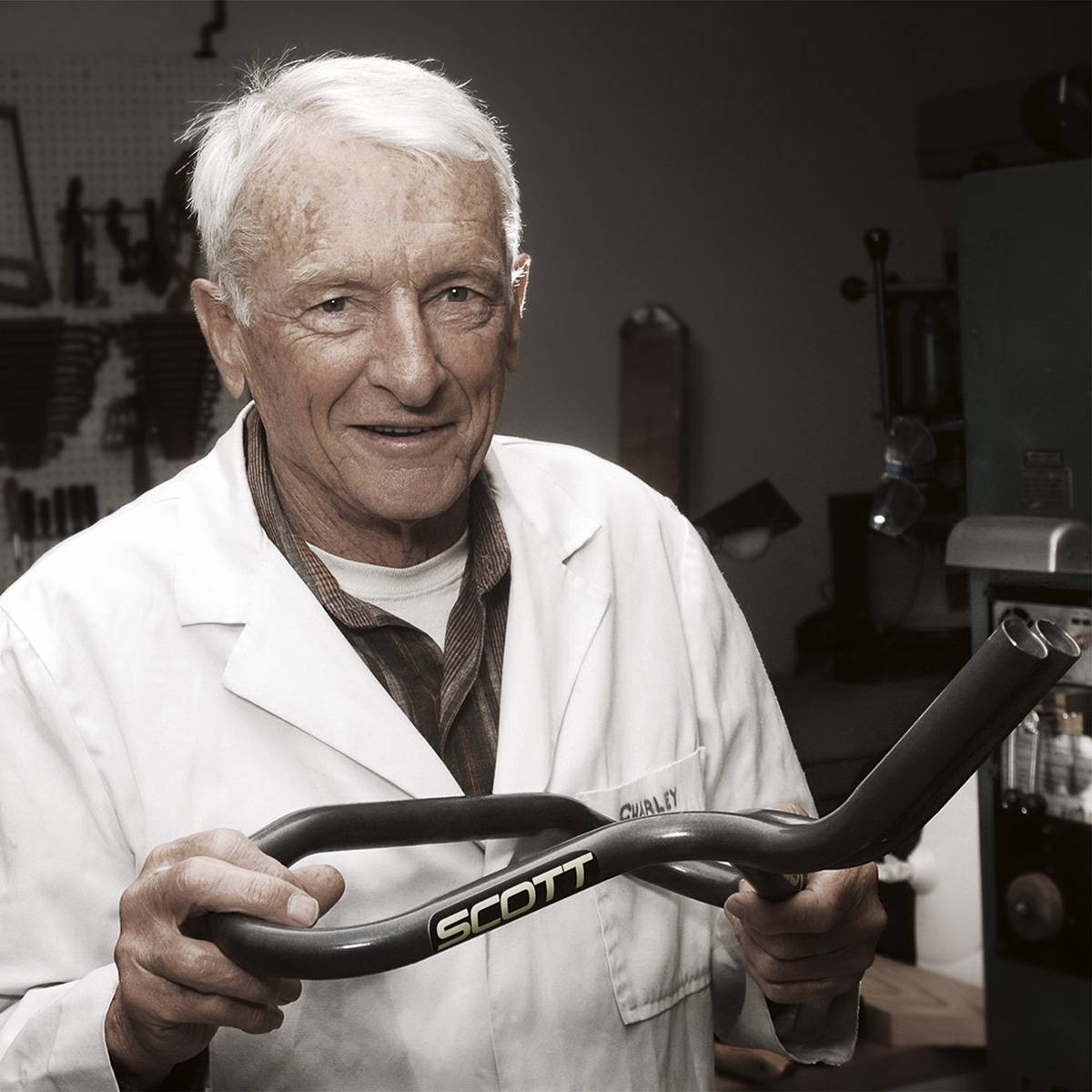 When Greg Lemond stunned the world and captured the overall victory in the 1989 Tour de France, he did so by using the first aero handlebars and absolutely crushed the field in a time during the penultimate stage and the sport has never been the same. That aero bar, of course, was designed by SCOTT Sports mastermind Charley French.
Two years later, SCOTT Sports introduced the Unishock and immediately became a major player in the mountain bike game. SCOTT became the MVP in 1992 when it began manufacturing full suspension mountain bikes, cycling shoes, and helmets.
In 1995, the first carbon frame was introduced to the mountain bike market and had a SCOTT logo on it as the Endorphin racked up victories in the Olympics and World Cup at a rapid pace. Not to be outdone, SCOTT released the G-Zero full suspension frame in 1998. At the time, it was the lightest full suspension bike frame on the planet.
Making waves in the road bike market was only a matter of time for SCOTT Sports. In 2001, the Team Issue road bike became the first frame weighing less than a kilogram to be available to the masses. The CR1 road frame made its debut in 2003 and weighed only 895 grams. By then, the bike development race was on at full speed with innovations across the industry as each brand tried to outdo the other new tech, new fibers, and new engineering standards.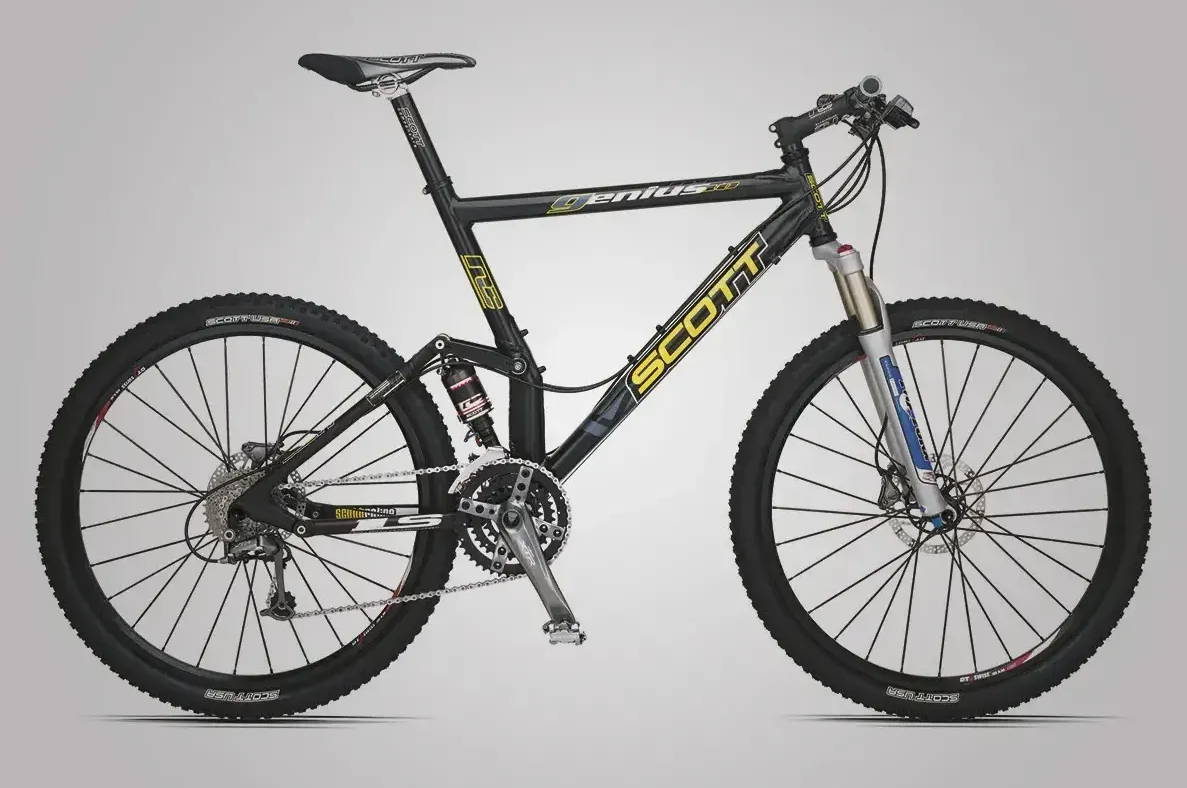 The SCOTT Genius was launched in 2003 and quickly became one of the most popular bikes of all time with its adjustable suspension system and was pedaled to a World Championship by Thomas Frischknecht.
By the mid-aughts, triathlon had emerged as a global phenomenon. SCOTT released the Plasma with a sub-1,000 gram frame and integrated seatpost. Triathlons and time trials have never been faster.
A series of ownership changes resulted in new management, new directions, and a corporate headquarters in Switzerland. But ground-breaking innovations never stopped and 2007 became one of the most important years in SCOTT's history. The release of the SCOTT Addict and SCOTT Spark, the two lightest frames in the world in their respective classes, created huge momentum for the brand. SCOTT signed Nino Schurter to be the face of its mountain bike division and there has been no stoppage in Rainbow Jerseys or Gold Medals.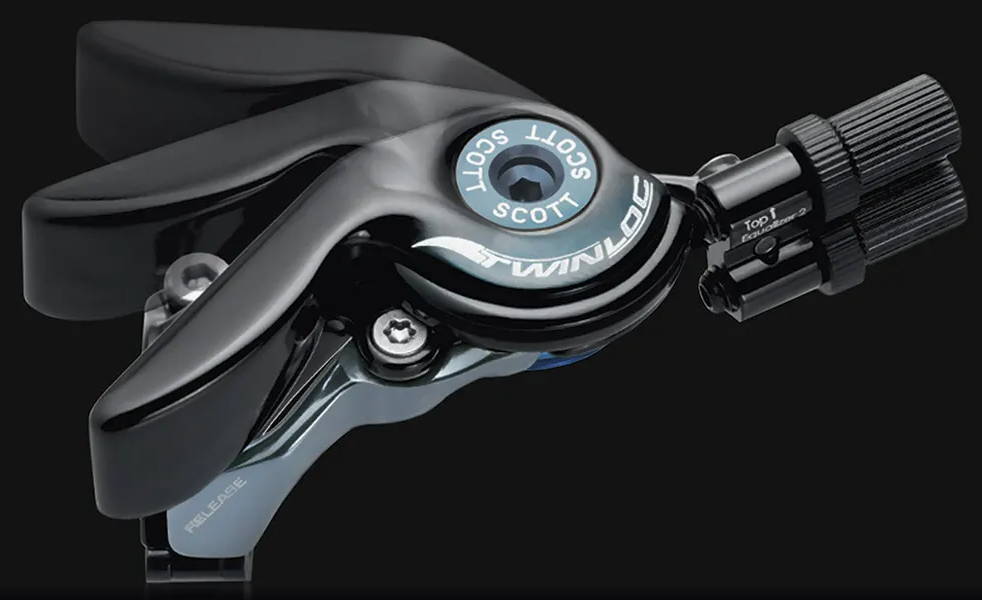 SCOTT Sports celebrated its 50th anniversary in 2008 and opened a North American HQ in Sun Valley, Idaho.
The Genius 2 was released in 2009 with all-new geometry, the Equalizer2 shock, and a load of new tech features.
TwinLoc came in 2010 and changed the mountain bike game as Schurter used the technology to become the most dominating mountain biker of all time.
By then, everyday cycling was evolving as fast as competitive cycling. SCOTT released the Venture electric bicycle - a commuter bike designed to change the way people navigate the city - in 2010. Once that cat got out of the bag, there was no putting it back as eBikes have since taken over the urban market and have made serious inroads to the mountain and road bike markets.
SCOTT flipped the mountain bike world on its head, again, in 2012 when the 27.5-inch wheel rolled into the market in a big way and is part of the Genius 700 and Scale 700 bike lines. Schurter, of course, wins another World Championship on the SCOTT Scale 700.
The E-Spark was introduced in 2013 and became SCOTT Sports' revolutionary entry to the electric full suspension bike market with a Bosch motor and powertrain. Also released in 2013 is the SCOTT Addict SL - with a complete frame package weighing less than a kilogram.
Using a new HMX carbon fiber, SCOTT's Addict SL is the lightest road bike on the market.
Innovation for bikes extends beyond the bike, of course, and in 2014 SCOTT unleashed its ITD Protec softgoods line with carbon yarns and ceramic printing which extend the life and function of bike bibs and jerseys even in the event of a crash.
Tri geeks and speed freaks rejoiced in 2014 when the Plasma 5 was released with a slew of new aerodynamic features that made it the cream of the crop and produced the fastest bike splits.
Mountain bikes with 27.5 wheels and tires got an upgrade in 2015 with the introduction of 27-plus bikes with wider tire clearance for more aggressive handling and tons of fun on speedy descents.
Innovations came faster than ever in the past few years as SCOTT Sports released the SCOTT Foil - the lightest aero road bike with disc brakes - and the Genius got another significant boost as the most versatile full suspension mountain bike around with a new, lighter frame and revamped geometry. To spice things up, SCOTT also rolled out the E-Genius pedal assist bike.
Enduro mountain bikes became a big thing near the middle of the decade and the SCOTT Ransom fit in perfectly. The SCOTT Gambler came a year later and SCOTT began winning downhill World Cup races and had the fastest overall team times in the 2019 World Cup season.
The SCOTT Addict got a new title with the RC addition to its line. Race Concept became the standard of excellence for SCOTT's bike lines with the strongest, lightest, and most responsive carbon fiber and designs to date.
As SCOTT enters the 2020s, the innovations and advancements in bicycle technology are developing as fast as 3D computer models and test rides can go. With more than 60 years in the outdoor industry, SCOTT Sports is, and plans to remain, a leader.
Bikes have never been more exciting and fun. SCOTT Sports intends to push the boundaries of innovation well into the future.
Why Buy From Contender Bicycles?
Why Buy From Contender Bicycles?
You can buy a bike just about anywhere these days. From your neighborhood big box store to the local bike shop to online classifieds to the online behemoths to chain shops with a dozen locations in the time zone, places to buy a bike are everywhere.
But which is the best place to buy a bike? And why is the answer to that question Contender Bicycles?
Contender Bicycles has been a fixture in the Utah and Salt Lake City bicycle scene for decades. We take great pride in being the best bike shop around. Not just the coolest, but the best. That means we care and we want to make sure every customer rolls out of our shop satisfied.
So, what sets Contender Bicycles apart from the crowd? There are myriad reasons.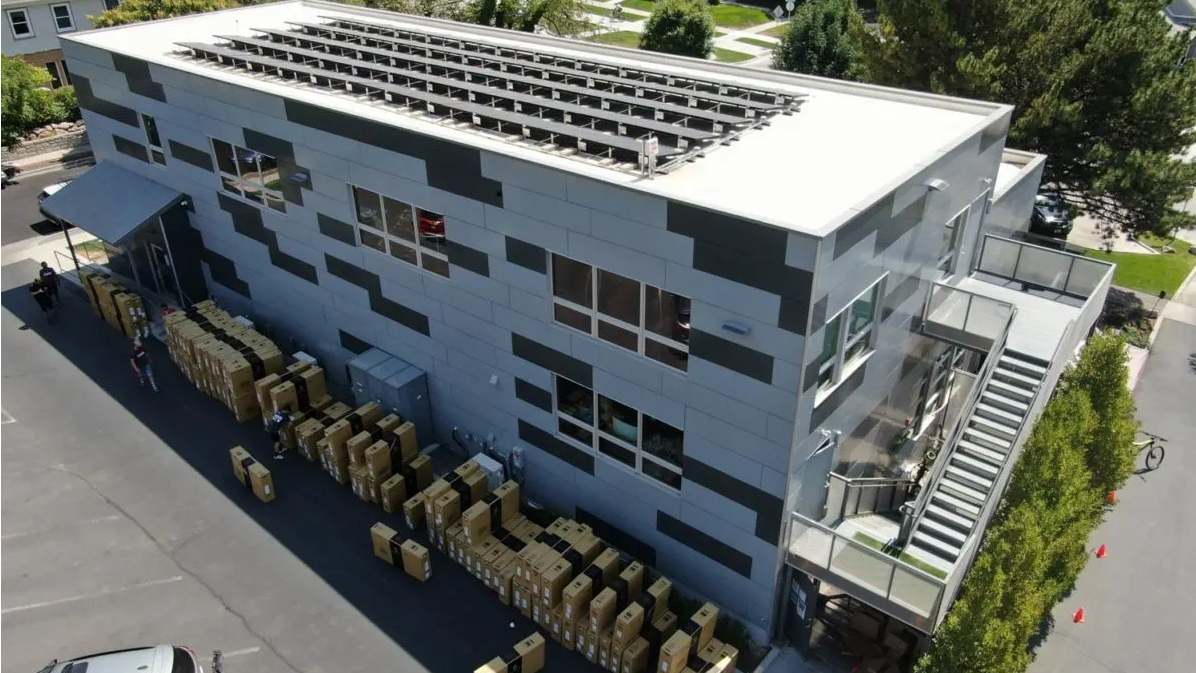 We consider ourselves the local experts. Whether you walk through our doors or give us a call, our staff knows the answer to your questions and you'll get the same professional service whether you are in the shop or on the phone. Many of us, like you, are more versed in one area than the other. If the first person you talk to at Contender Bicycles isn't the expert you need, we've got the expert just a few steps away. We've got more than 250 years combined experience in the shop at any time and there's always someone on duty with the experience and expertise you trust.
To make sure you find the right bike, we make sure our staff is up to date on the latest innovations and technologies. The bike world evolves every year and so do we through training and education. With our size, sales volume and reputation, we have excellent relationships with bike brands, component companies and apparel makers. If we don't have it at the moment, we can get it.
Contender Bicycles is one of the largest physical bike shops in the country and we have an unmatched selection of quality bicycles from numerous brands. Many bike shops these days have narrowed down their inventory to one or two brands. That's absolutely not the case at Contender.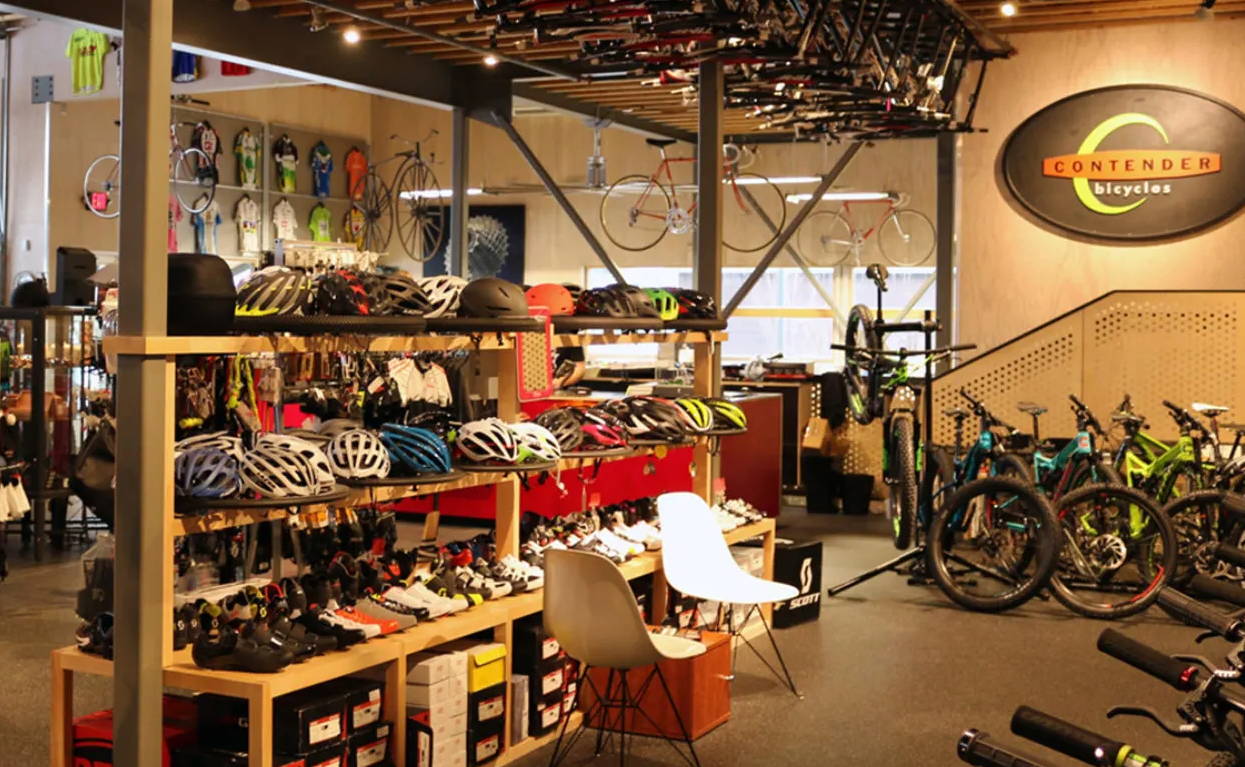 With close to two dozen bike brands represented on our sales floor, you'll find more than 200 new bikes ready to test ride and purchase. From BMC to Pinarello to SCOTT to Orbea and several more brands with reputations for quality we are proud to offer; Contender Bicycles has the brands you see in World Cup races and the Tour de France. We also have smaller, more refined brands with unrivaled quality and custom build options like Open Cycle, Moots and Time. It may be a bit of a humble brag, but Contender Bicycles sells more bikes from some brands than any other shop in the country.
We also offer a high end selection of gear and apparel. Our jerseys, shorts and other accessories are things we'd feel comfortable wearing while riding. There's not much risk of buying a set of bibshorts from us with a chamois you regret.
An area Contender Bicycles takes special pride in is our Pro Build service. Many of our customers don't simply want a great bike from the floor. They know their parts and components and have something special in mind. With our Pro Build service, you can select a frame - road, mountain, gravel, whatever - and consult with one of our Pro Build specialists to create a complete bike that matches your needs and tastes to a T. We can even help you customize your bike with a paint job that is truly one of a kind.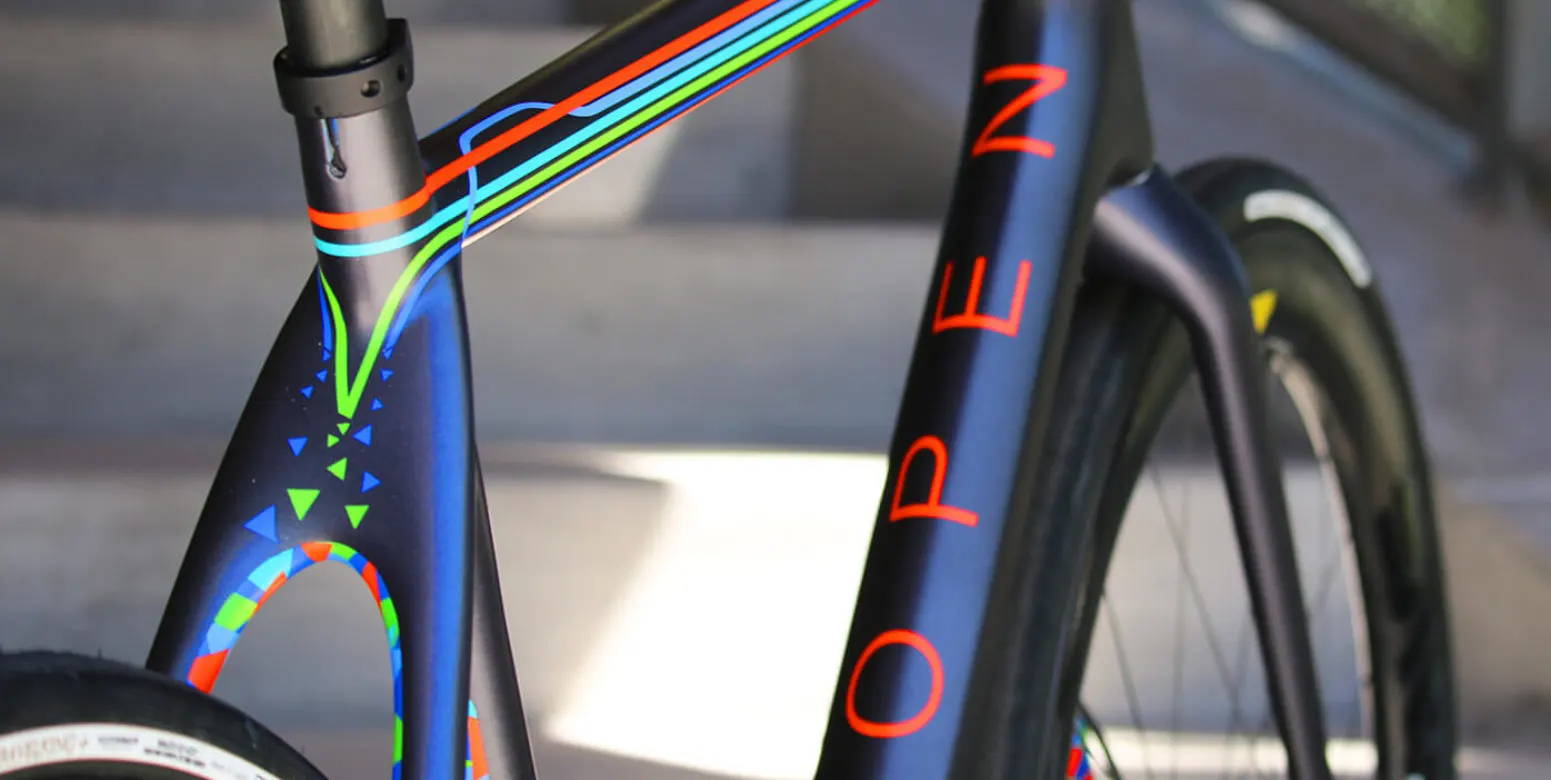 Of course, every bike will need to be serviced now and then. Contender Bicycles has the largest service staff in the state. With more than a dozen wrenches on staff, we have experts ready to make your bike as good as new as quickly as possible. Our mechanics have experience and training unmatched in the market. We'll talk over each fix, discuss options and get you back in the saddle as soon as possible.
While Contender Bicycles has a reputation for selling only the best bikes, bike accessories and bike gear, we listen to you first to determine what your needs are. We don't pay sales commissions, so we care more about making sure you ride the best bike for you rather than selling the best bike for us.
Whether you're buying a bike from Contender Bicycles in person or working remotely with our Pro Build experts, we're dedicated to making your experience in the shop as good as your ride on the trails or road.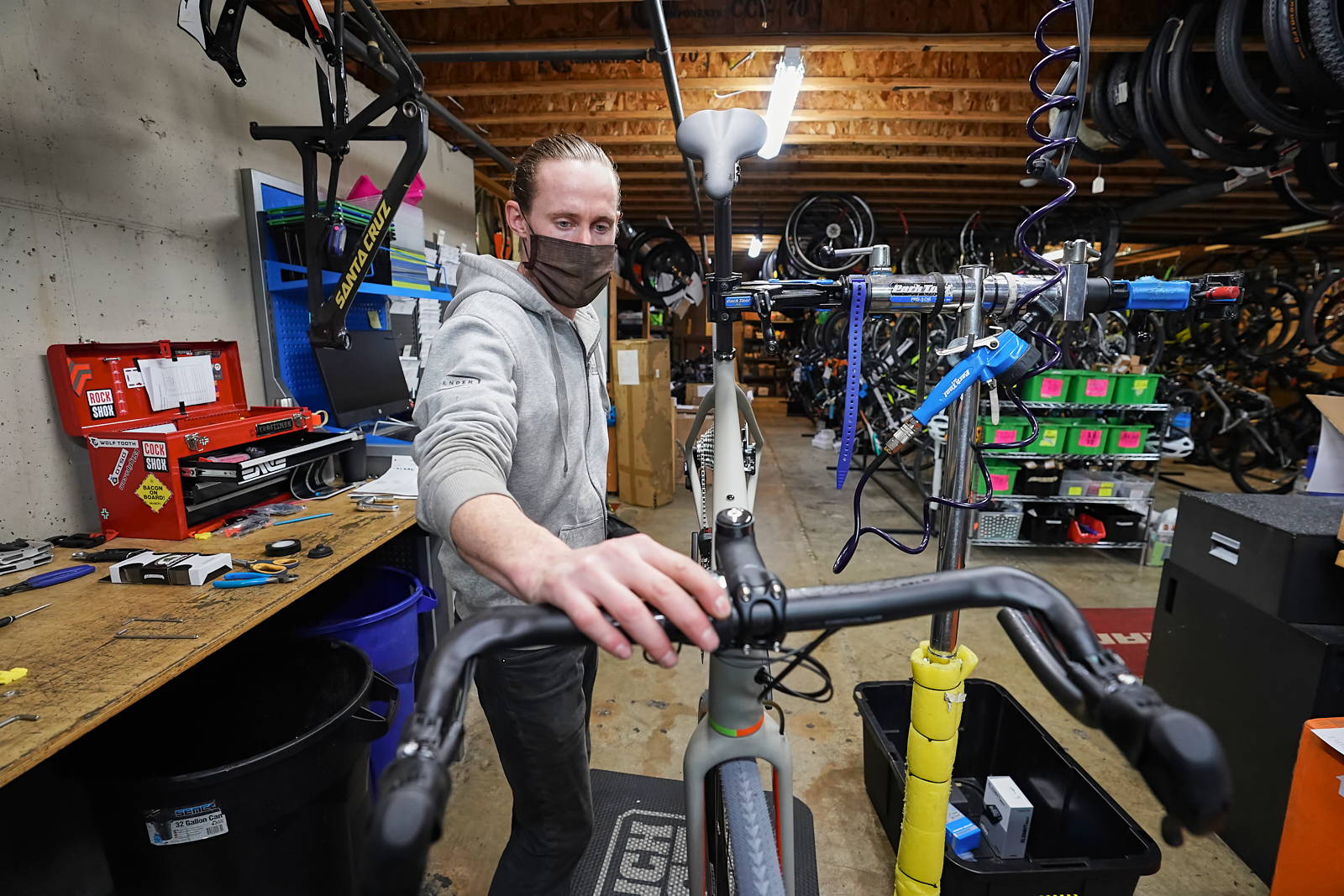 Selling your bike so you can buy a new bike can be a pain in the backside. Text messages from strangers, emails from questionable accounts and getting low-ball offers is a drag. With the Contender Bicycles Trade In to Trade Up program, you'll be riding a new bike in record time.
With the Contender Bicycles Trade In to Trade Up program there's no need to deal with the hassle of listing your bike in an online classifieds system. Say goodbye to the sketchy replies asking for your bank routing number so they can wire you money and have their personal shipping company take care of transport. No more meeting a random buyer in a parking lot for a test ride, either.
Instead, the Contender Bicycles Trade In to Trade Up program eliminates all that - and the time waiting and wondering if your bike will ever sell. We'll make sure you get top dollar for your old bike and get you riding your new bike faster than you thought possible. By partnering with The Pro's Closet, Contender Bicycles becomes the middle man in the process and you can focus on picking out the new bike and planning your first ride.
The Low Down
Visit TheProsCloset.com and create an account. Upload a few photos, type in the important details about your bike and within 24 hours you'll receive a reply from The Pro's Closet with an offer. Bring the bike and offer sheet to Contender Bicycles and we'll apply the amount toward the purchase price or your new ride. We take your old bike, arrange shipping to The Pro's Closet and you ride off into the sunset.
It's that simple.
Trade In to Trade Up - getting a new bike has never been easier.
To be the best, there are no shortcuts. Only hard work, intelligent work and obsessive work.
Nino Schurter didn't take shortcuts when he had a perfect mountain bike season in 2017. Kate Courtney didn't take shortcuts when she won the 2018 cross country World Championship at the ripe age of 23. Matthew Hayman didn't take shortcuts when he outdueled Tom Boonen on the Roubaix velodrome to win the world's most famous one-day bike race.
Schurter, Courtney and Hayman each rode a SCOTT bicycle to their respective wins.
As you might guess, SCOTT Sports takes no shortcuts.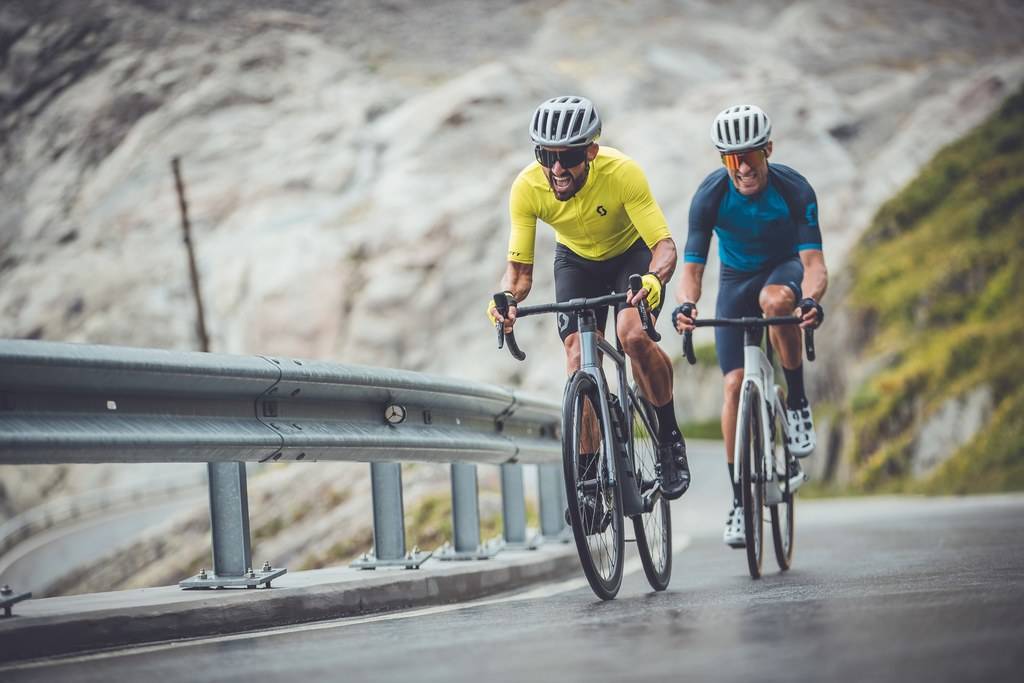 In fact, No Shortcuts is the SCOTT Sports mantra and mission statement. To be the best, you can't take shortcuts. You have to do all the work required.
For SCOTT Sports, No Shortcuts means long days in front of a computer modeling new carbon fibers and testing sessions in the wind tunnel. It means never being satisfied with the status quo and alway, always seeking ways to make a bike faster, more responsive and more durable.
The easiest time to take shortcuts is when there's nobody watching. Likewise, the best time to take no shortcuts is when there's nobody watching. Does your training plan call for 50 miles and 6,000 feet of climbing? Do you flip a U-turn at the last switch back when the pitch goes up to 15 degrees or do you hunker down and up the watts? The best resist any urges to go easy.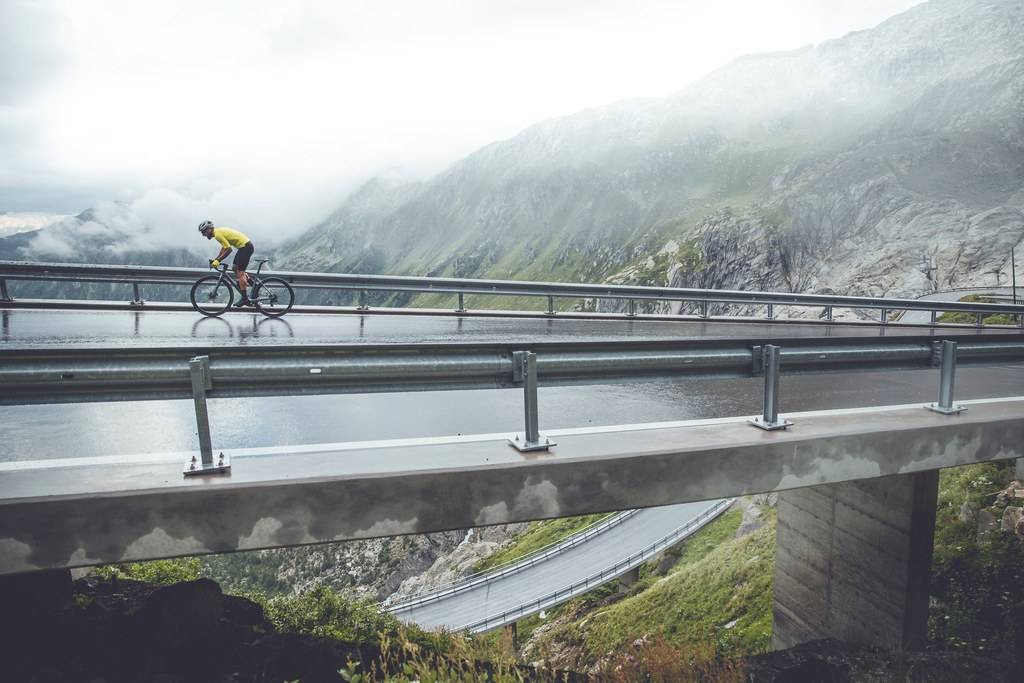 SCOTT Sports is relentless in its effort to be the best and make the best bikes and best gear for cyclists. So much so, in fact, that they not only want to make the best, they want to make it in the best possible way.
As a result, SCOTT Sports launched its Re-Source initiative. Producing the best bikes, bike parts and bike gear is only acceptable, in SCOTT's view, if it's done responsibly and ethically.
"We take into consideration that the earth's resources," SCOTT said, "must be used in such a way that ecosystems and future generations shouldn't be adversely affected."
Three pillars make up the initiative for SCOTT Sports: People, Product, Planet.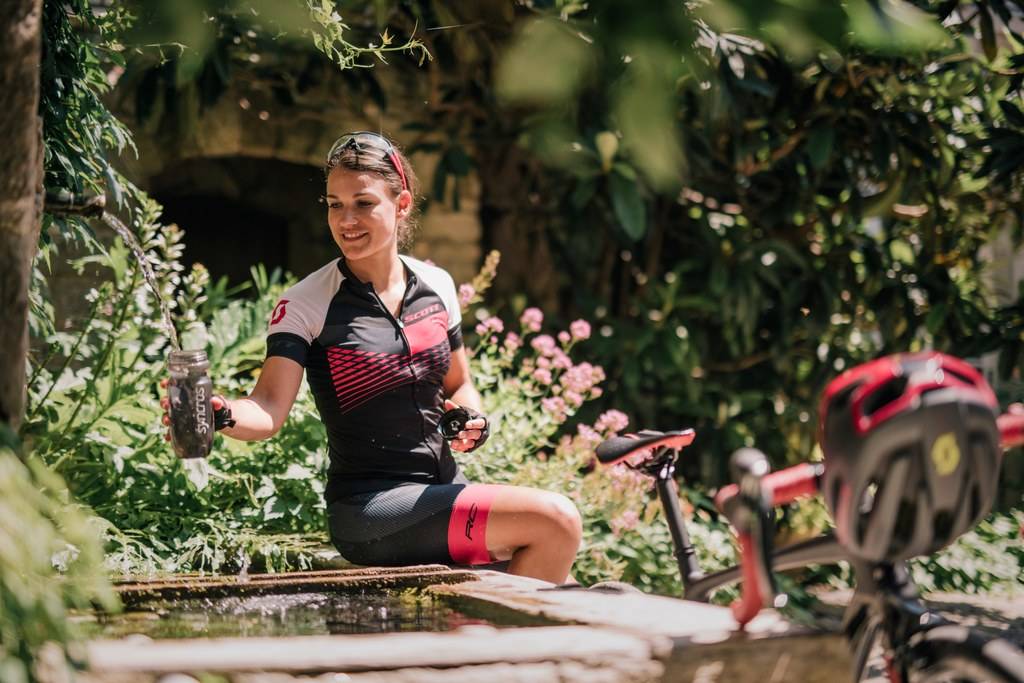 SCOTT takes great effort to assure the supply chain is an ethical one. No child or forced labor. Proper pay and compensation for employees. No discrimination and no harrassment in the work place. All are vital components to making SCOTT a company its employees and customers can be proud to associate with.
For Re-Source branded softgoods, SCOTT uses 100 percent third party certified renewable materials, 50 percent recycled polyester and cannot contain PFC-based materials. In 2020, a full 28 percent of all softgoods offered by SCOTT meet the Re-Source standards. There are No Shortcuts in organic materials, either. Merino wool socks, jerseys and other items are ethically sourced from sheep in humane farms and are 100 percent Museling free. All cotton used by SCOTT Sports is 100 percent organic and herbicide/pesticide free.
Smaller, thinner and recycled poly bags are used in packaging softgoods.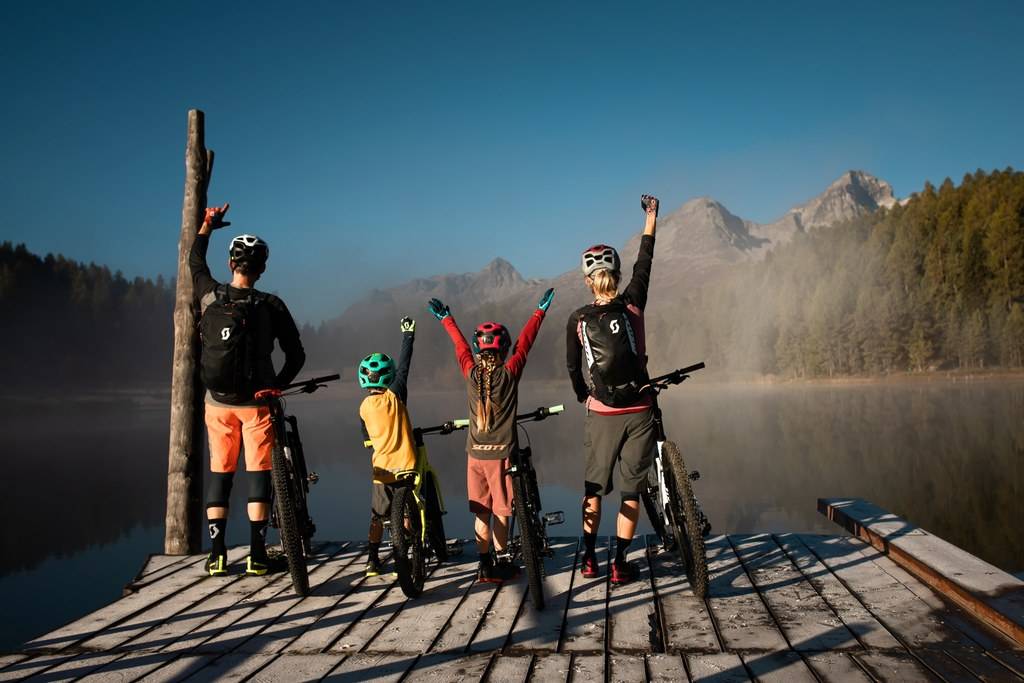 "We take into consideration that the earth's resources," SCOTT says, "must be used in such a way that ecosystems and future generations shouldn't be adversely affected."
No Shortcuts means forgoing some short-term financial benefits for long-term good.
When you race, taking a shortcut is frowned upon. In SCOTT's business model, the company has developed a mission to work with No Shortcuts in engineering, design, practices, sources or materials.
Because in order to be the best, you can not take shortcuts.
---
Product Description
A capable, get-around-town pedal assist electric bicycle, the 2021 SCOTT Axis eRIDE 10 makes your commute better, your playtime more fun and weekends full of adventure with its strong Bosch powertrain and sturdy alloy frame.
The SCOTT Axis eRIDE 10 is available in men's and women's frame style and makes for an ideal urban bike for those who don't necessarily want to look like they're riding an urban bike. With a mountain bike geometry, reliable front fork with 100mm travel and disc brakes, you'll be ready to hit the trails on weekends.
With the long-lasting Bosch powertrain, fenders and cargo racks, the SCOTT Axis eRIDE 10 Men is ready to get you to work and back, the market during lunch and around the park with the kids in the evening - all without breaking a sweat.
The SCOTT Axid eRIDE 10 Men comes with five levels of pedal assist so you can get a little more help going up the hills or put it in eco mode for the flat parkway strolls. In fact, shifting the powertrain to eMTB mode essentially turns on an automatic transmission that 'reads the road' and shifts gears for you as the road or trail conditions change.
Weekend rides can go longer with a pair of range extending options. The main battery is removable and upgradeable, so you can trade up to a 625Wh battery or buy the available range extender battery pack which mounts to the frame just like a water bottle cage. Or, heck, do both and ride all day and night.
Cycling is an evolving sport and activity. The SCOTT Axis eRIDE 10 Men is the next step in the revolution.
Visit the shop, give us a call, or send us an email anytime to info@contenderbicycles.com.
Specifications
With the SCOTT Axis eRIDE 10, charge up the battery, set your course or activity, head out and don't look back. Want to take some extra kit with you? No problem, load up the rack for the ride and you're good to go explore.

bike condition 3

CROSS-COUNTRY, MARATHON, HARDTAILS Please check the Bike Manual Section for more information

Frame

Alloy S-XL=29" / 6061 Alloy custom butted tubing Bosch Integr. removable Battery Range Extender Ready / internal cable routing / slanted Motor

Fork

SR Suntour XCR34 Air / Tapered / S-XL 29"/ 100mm Travel / 15x110 bolt Axle / Remote Lock Out

Drive Unit

Bosch Performance CX EU: 25kmh / US: 20mph

Battery

PowerTube 625Wh
Display

Purion Display

Charger

2A Charger

Rear Derailleur

Shimano XT / 12 Speed

Shifters

Shimano Deore SLM6100RA

Crankset

Miranda 172,5MM

Chainring

38T Chainflow / Chainprotector

Chain

KMC E12S

Cassette

Shimano CS-M6100-12 10-51T 12S

Brakes

Shimano BR-MT400 Disc 180/F and 180/R SM-RT30 CL rotor

Handlebar

Syncros 3.0 720mm / 31.8mm / 8° / 20mm rise Syncros Lock On Grip

H'stem

Syncros UC3.0 with integrated Light

Seatpost

Syncros M3.0 / 31.6

Seat

Selle Royal Essenza

Headset

Syncros FL2.0 Urban / Tapered 1.5"-1 1/8" semi integ. OD 50/61mm / ID 44/55mm

Hub (Front)

Shimano HB-MT400 / 15x110mm

Hub (Rear)

Shimano FH-MT400B / Boost 12x148mm

Spokes

Black Spokes

Rims

Syncros X18 Disc / 32H Tubeless ready

Rear Tire

Schwalbe G-One Allround Performance 29x2.25" Wired

Lights

Spanninga XE / 40 Lux integrated front light Rear Pimento

Rack

Axis by Racktime 25KG

Pedals

VP VPE-506

Extras

Curana alloy profile Fender / Ursus Kickstand

Approx weights in KG

25.90

Approx weights in LBS

57.1

Max. System Weight

128 kg The overall weight includes the bike the rider the equipment and possible additional luggage.
Geometry
S / 900
M / 900
L / 900
XL / 900
A
head tube angle
67.5 °
67.5 °
67.5 °
67.5 °
B
head tube length
110.0 mm
4.3 in
120.0 mm
4.7 in
130.0 mm
5.1 in
140.0 mm
5.5 in
C
top tube horizontal
580.0 mm
22.8 in
600.0 mm
23.6 in
620.0 mm
24.4 in
640.0 mm
25.2 in
D
standover height
787.0 mm
31.0 in
809.0 mm
31.9 in
838.0 mm
33.0 in
853.0 mm
33.6 in
E
BB offset
57.0 mm
2.2 in
57.0 mm
2.2 in
57.0 mm
2.2 in
57.0 mm
2.2 in
F
BB height
320.0 mm
12.6 in
320.0 mm
12.6 in
320.0 mm
12.6 in
320.0 mm
12.6 in
G
wheel base
1,160.0 mm
45.7 in
1,180.0 mm
46.5 in
1,202.0 mm
47.3 in
1,222.0 mm
48.1 in
H
BB center to toptube center
I
BB center to top of seattube
400.0 mm
15.7 in
440.0 mm
17.3 in
480.0 mm
18.9 in
520.0 mm
20.5 in
J
Effective seat angle GEN3
75.2 °
75.0 °
74.9 °
74.7 °
K
chainstay
480.0 mm
18.9 in
480.0 mm
18.9 in
480.0 mm
18.9 in
480.0 mm
18.9 in
L
reach
398.0 mm
15.7 in
415.0 mm
16.3 in
433.0 mm
17.0 in
450.0 mm
17.7 in
M
stack
637.0 mm
25.1 in
644.0 mm
25.4 in
653.0 mm
25.7 in
663.0 mm
26.1 in
N
stem length
0
trail
90.5 mm
3.6 in
97.0 mm
3.8 in
97.0 mm
3.8 in
97.0 mm
3.8 in
---
Request Info
2021 Scott Axis eRIDE 10 Men
Online Enquiries
Phone: 801.364.0344
Locations
Salt Lake City
989 East 900 South, Salt Lake City, UT 84105, USA
Phone: (801) 364-0344
MON-FRI: 9am to 7pm
SATURDAY: 9am to 6pm
SUNDAY: Closed
Park City
1352 White Pine Canyon Road Park City, UT 84060
Phone: (435) 214-7287
MON-FRI: 10am to 6pm
SATURDAY: 10am to 5pm
SUN: Closed