The Rise of the Downcountry Mountain Bike (and Why More Suspension Travel is Good!)
Words by Joseph Bonacci. 
Since the debut of mountain biking, we have seen just about every bike be pigeonholed into one type of use case, with a lack of crossover among each discipline. Short travel bikes were lightweight and used for cross-country, and long-travel bikes were directed at the enduro crowd. What we have not seen, though, is a cross country race bike capable enough to feel light and efficient on the climbs but keep up with trail bikes and even some enduro bikes on more aggressive descents. All of that is about to change. Here's why.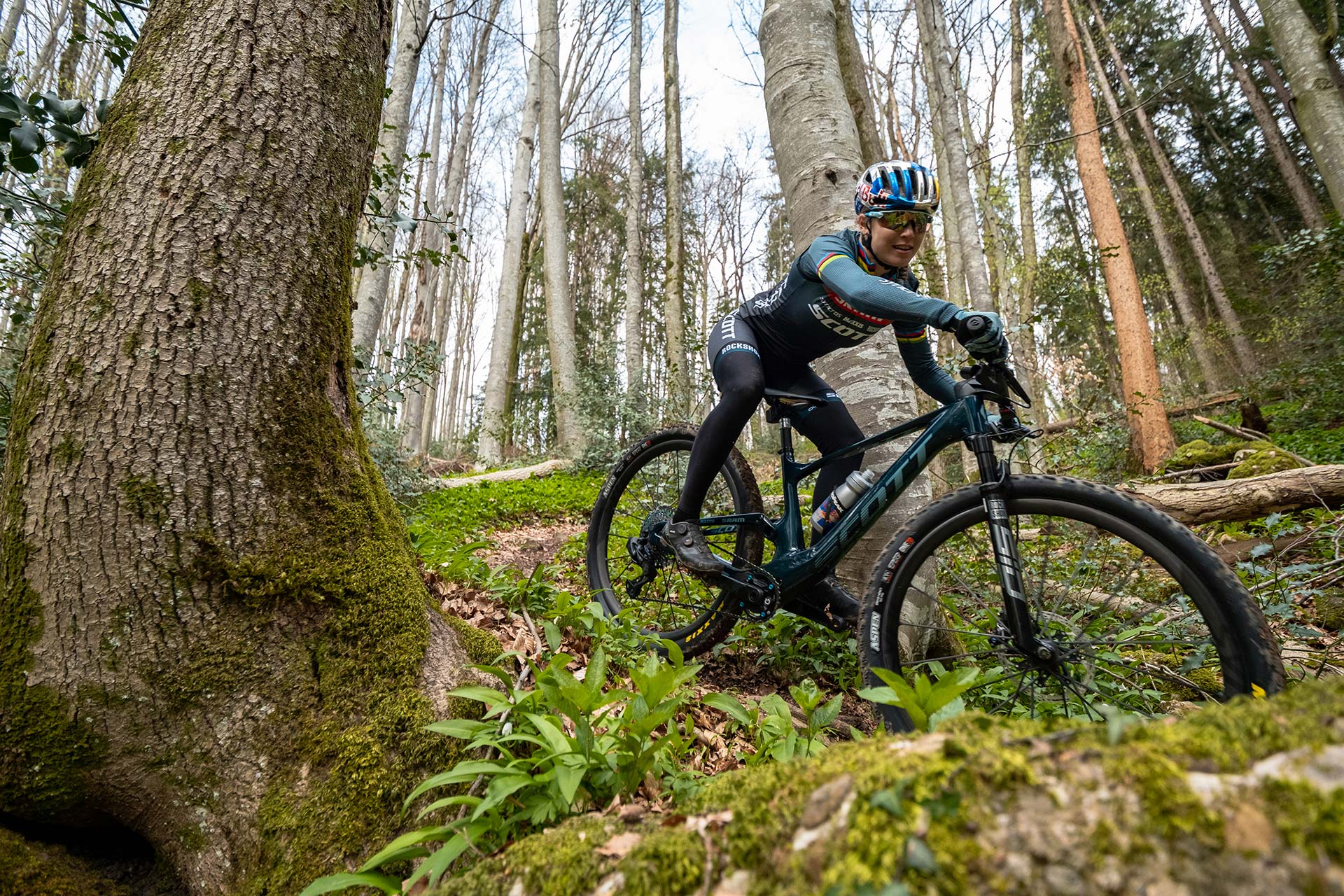 Kate Courtney descending on the new Spark RC (image from SCOTT Sports).
A Rising Tide
Earlier this year, Santa Cruz and Juliana released their Blur TR and Wilder TR. Rather than the traditional 100mm suspension front and rear, these bikes run a 115 mm travel frame, without compromising the pedal efficiency or adding much weight. Orbea has done much of the same with their Oiz TR. But the 2022 SCOTT Spark RC has to be the biggest update yet. There is no option for anything less than 120mm suspension front and rear, so it's all in on that front.
The Spark RC isn't any worse for weight when you consider the 20mm extra suspension travel. A Spark frame also weighs in at 1867g for a medium which is only an 18g increase in weight from the 2021 model with the 100mm rear travel, and that's while including a longer stroke shock to offer more suspension. 
SCOTT pushes the idea that a cross country bike should be able to keep up on the downhills with the big bikes. To show just how capable the bike is, SCOTT gave a Spark to downhill racer Brendan Fairclough to show us just how capable the bike is on the downhill. Fairclough went to show us that with the proper skill set, the Spark is ready to do backflips. SCOTT's promotional videos for the Spark RC 2022 show Nino Schurter doing massive drops, and Brendan Fairclough (on the Trail Spark, not the RC) sending it down loose faces where an enduro bike would be at home.
Keegan Swenson winning The US Pro Cup on one of the debut races for the Santa Cruz Blur (image from Santa Cruz Bicycles)
BALANCING NEEDS WITH WANTS
With all these changes a debate is brewing in the bike community: are cross country bikes the future of all trail riding, or should they stick to the racecourse and let the other longer travel bikes be the go-to for trails?
There are several things to consider when answering this question. Adding more suspension travel usually means a frame becomes less stiff. A loss of stiffness means a loss in pedaling efficiency, and a bike that isn't as fast on the race course. Remember, on the race course, a few seconds can be the difference between your hard work becoming a win or coming out as a loss. 
Additional suspension travel will be sure to ruffle the feathers of fundamentalists who don't want to change from the set standards. There is always going to be someone saying that a race bike should only be 100 mm travel and that straying from the status quo will be an abomination. But you also get a bike that descends quickly. Cross-country courses have grown more and more technical, with some features that one might see in an enduro course. Additional suspension travel means they become faster and faster on the downhill, exactly where a race can be won.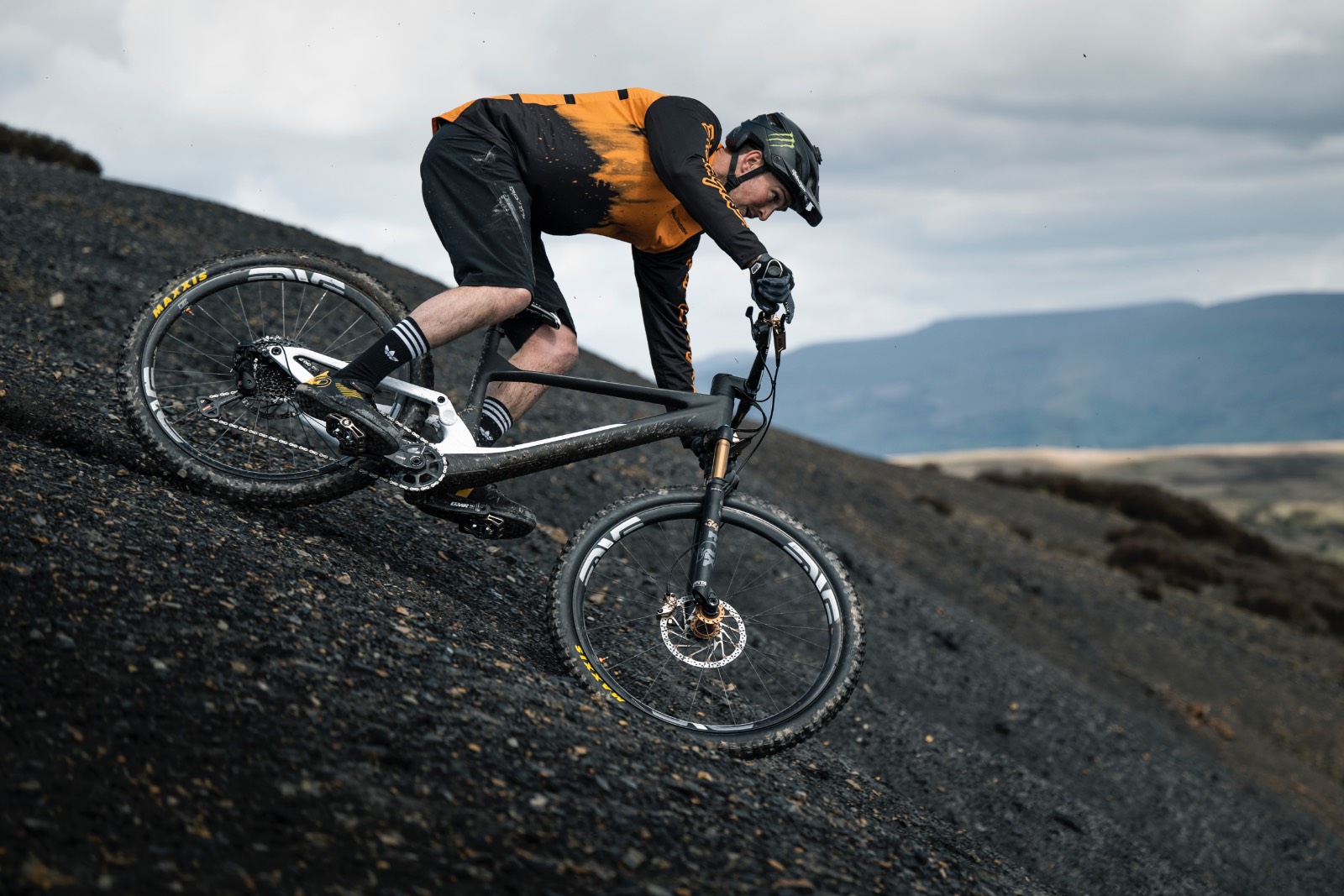 Brendan Fairclough on the 2022 Scott Spark 900 Tuned (image from SCOTT Sports).
Mathias Flückiger might be the best example of this phenomenon, as he gained the entirety of his winning gap on the downhill portions of the race. This was to win the World Cup, and it certainly matters for us too.
Obviously, what's good for racers isn't always good for the public, but added suspension travel benefits everyone. A lot of times people steer away from getting a cross country bike because they want the capability of a trail bike on most terrain, but with these developments one can get the lightweight cross country bike and still feel comfortable on more aggressive riding. With that, it makes the Cross country bike a better bike for the non-racers. 
Why do all of these developments excite me? In a way, these changes are just what I've been looking for from cross country bikes. Shortly, I am going into the collegiate mountain bike scene, where I hope to race something called the Omnium. The Omnium is a 4-part race where each racer has to race a cross-country, a short track, a dual slalom, and a downhill event. Because of this event, I prefer longer travel frames. Unlike years past, I may be able to race all the events on one bike and still keep up with everyone else.
Don't just call me a racer, however. I do a lot of riding just for fun, and a bike that I can still race on but that has more travel makes it more appealing to me as something that can go almost anywhere. I expect my bikes to be able to descend well, as I take them down a lot of terrain that is definitely out of the bikes comfort zone. I have found that my 2020 Scott Spark RC rides like a trail bike, and now I am so excited to ride the new Spark and the Blur to see how they compare to my current bike. 
Tasting the dirt in the air. Prime conditions for enduro cross country mountain bikes.
CONCLUSION
Personally, I love the longer-travel cross country frames. They show us that what we did not know was possible is becoming possible. The longer travel on a lightweight stiff frame shows that the technology is advancing and that we have not reached the peak of development yet. Who knows, in twenty years maybe we will look back on these bikes in the same way we look back on the bikes from the 2000s.
Call them downcountry bikes, enduro cross-country bikes, or plain good bikes. Whatever you call them, they'll be of benefit to us all.
See our list of our favorite long travel cross country bikes or downcountry bikes on the Contender Journal.
---
2 comments