---
Product Description
Introducing the Pinarello F7 - the latest offering from the Italian bike manufacturer that's got the cycling community buzzing. The F7 is a serious machine that's sure to impress even the most discerning cyclist. 
Built with a Toray T900 carbon layup, the F7 is a race bike that's designed for serious speed. It boasts a geometry that's inspired by Pinarello's flagship Dogma F model, and features truncated aero 'flatback' tube profiling for enhanced aerodynamics. The result is a bike that cuts through the air like a hot knife through butter, making it ideal for long rides or races.
What's more, the F7 is incredibly lightweight, with a claimed weight of just 950g for the T900 frames in size 530. This means it's not only fast on the flats, but also efficient on the climbs. And with clearance for tires up to 30mm wide, the F7 is a versatile machine that can handle different road conditions with ease.
But what really sets the F7 apart is the high-end components that come standard. With a Shimano Ultegra R8170 Di2 groupset, proprietary 1.5in steerer and aero seatpost, 3D-printed internal titanium seatpost clamp, TiCR internal cable routing, and an Italian threaded bottom bracket, this bike is packed with features that you'd normally only find on much more expensive models.
All in all, the Pinarello F7 is a machine that's designed to help you push your limits and achieve your goals, whether you're a professional racer or a passionate amateur. So if you're in the market for a high-quality race bike, the Pinarello F7 should definitely be at the top of your list.
Specifications
*Please note that bike specifications are subject to change without prior notice
FRAME
TorayCa T900 UD, TiCR™ cable routing, Italian BB, UCI approved
CRANKSET AND CHAINRINGS
Shimano Ultegra Di2 FD R8150 12S
FRONT DERAILLEUR
Shimano Ultegra Di2 FD R8150 12S
CASSETTE
Shimano Ultegra Di2 FD R8150 12S
CHAIN
Shimano Ultegra Di2 FD R8150 12S
FRONT BRAKE DISC
Shimano Ultegra R8150, 2 pistons caliper, 160mm rotor
REAR BRAKE DISC
Shimano Ultegra R8150, 2 pistons caliper, 140mm rotor
INTEGRATED HANDLEBAR
MOST Talon Ultra Light
BAR TAPE
most bar tape
SEATPOST
Pinarello Aero Seatpost
SEAT CLAMP
fsc frontal seat clamp
WHEELSET DISC
MOST Ultrafast 40*
AXLES DISC
Ultra Light Custom Axle 12x100 & 12x142, tool free removal
Geometry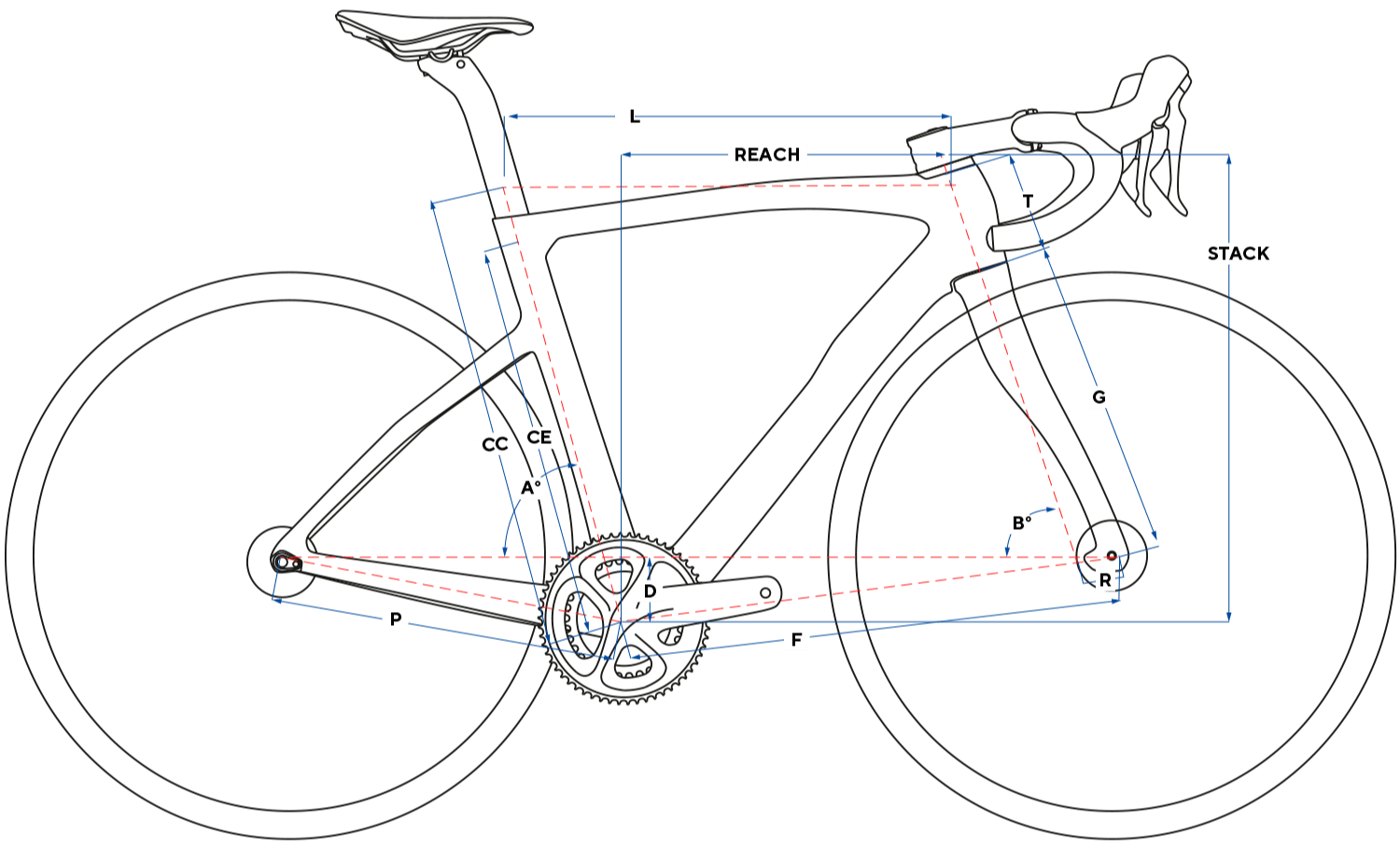 CE: SEAT TUBE CENTER - END, CC: SEAT TUBE CENTER - CENTER, L: TOP TUBE CENTER - CENTER, A[°]: SEAT TUBE ANGLE, B[°]: HEADTUBE ANGLE, P: CHAINSTAY, T: HEADTUBE, D: BB DROP, R: FORK RAKE , G: FORK HEIGHT, REACH, STACK
| | | | | | | | | | | | |
| --- | --- | --- | --- | --- | --- | --- | --- | --- | --- | --- | --- |
| CE | CC | L | A[0] | B[0] | P | T | D | R | G | REACH | STACK |
| 425 | 430 | 500 | 74.4 | 69.5 | 406 | 97 | 67 | 43 | 373 | 351.3 | 502.5 |
| 450 | 465 | 515 | 74.4 | 70.5 | 406 | 104 | 72 | 43 | 373 | 365.2 | 517.7 |
| 465 | 500 | 525 | 74 | 71.4 | 408 | 109 | 72 | 43 | 373 | 372.1 | 525.5 |
| 485 | 515 | 535 | 73.7 | 72 | 408 | 114 | 72 | 43 | 373 | 378.1 | 532.3 |
| 500 | 530 | 545 | 73.7 | 72.5 | 408 | 123 | 72 | 43 | 373 | 385.6 | 542.6 |
| 515 | 545 | 555 | 73.4 | 72.8 | 410 | 138 | 72 | 43 | 373 | 388.3 | 557.9 |
| 525 | 560 | 565 | 73 | 73.2 | 410 | 149.5 | 72 | 43 | 373 | 390.8 | 570.3 |
| 560 | 575 | 578 | 73 | 73.7 | 410 | 178 | 72 | 43 | 373 | 395.4 | 599.3 |
| 580 | 595 | 600 | 72.4 | 73.4 | 410 | 220 | 67 | 43 | 373 | 400.3 | 633.5 |
---
Request Info
Pinarello F7 Disc Ultegra Di2
Online Enquiries
Phone: 801.364.0344
Locations
Salt Lake City
989 East 900 South, Salt Lake City, UT 84105, USA
Phone: (801) 364-0344
MON-FRI: 9am to 7pm
SATURDAY: 9am to 6pm
SUNDAY: Closed
Park City
1352 White Pine Canyon Road Park City, UT 84060
Phone: (435) 214-7287
MON-FRI: 10am to 6pm
SATURDAY: 10am to 5pm
SUN: Closed