---
Product Description
The 2023 SCOTT Addict RC 15 represents the best way to get into Shimano's Ultegra Di2 12-speed drivetrain. Add Syncros Capital carbon wheels and HMX carbon frame, and there's little room to upgrade this bike. Don't like the grey? SCOTT has you covered with a Carbon Black model.
The SCOTT Addict RC 15 utilizes race geometry that meets the requirements of both professional riders and sportive speed demons. With aggressive positioning, handling is very direct and the Addict RC 15 is able to respond to rider input instantaneously while maintaining stability. Like SCOTT's Foil, the Addict RC has low seat stay attachments to further increase the ride smoothness to account for poorly paved roads and encounters with mixed surfaces. Because the change is made at the seat stay, a smooth riding experience is achieved without compromising pedaling efficiency or bottom bracket stiffness. 
Through precision carbon fiber layering, SCOTT is able to reinforce key zones of the Addict RC 15 in order to increase the stiffness at the bottom bracket and headset without altering the compliance of the seat stays. Alongside this increase in stiffness, we are also granted a lighter bicycle, as SCOTT implements a hollow structure, minimum bonding points, and no alloy parts for drop-out or brake mounts. The increased stiffness and lightness will immediately aid in acceleration, maintaining speed, and in blowing past the hordes on weekend canyon rides. 
Clean and uncluttered, SCOTT prioritizes internal routing and ergonomic Syncros Creston IC handlebars to keep you feeling good, looking better, and pedaling fast. Ready to turn heads and win races from the moment you walk out of the bike shop, the 2023 ADDICT RC 15 is here with a need for speed. Come on into Contender Bicycles to see why we are excited about SCOTT's 2023 ADDICT RC series of road bikes. 
KEY FEATURES
Addict RC Disc HMX Carbon Frame

Addict RC HMX Fork

Shimano Ultegra Di2

Syncros Capital 1.0 35 Disc Wheels

Schwalbe ONE Race-Guard Tires

Syncros Carbon/Alloy parts

Fully Integrated Cable Routing

Syncros Creston 1.0 Compact Carbon Handlebar
Specifications
*Please note that bike specifications are subject to change without prior notice
FRAME
Addict RC Disc HMX / Road Race geometry / Replaceable Derailleur Hanger / Internal cable routing
FORK
Addict RC HMX Flatmount Disc / 1 1/4"-1 1/2" Eccentric Carbon steerer
REAR DERAILLEUR
Shimano Ultegra Di2 RD-R8150-SS / 24 Speed Electronic Shift System
FRONT DERAILLEUR
Shimano Ultegra Di2 FD-R8150 / Electronic Shift System
SHIFTERS
Shimano Ultegra ST-R8170 / 24 Speed Electronic Shift System
CRANKSET
Shimano Ultegra FC-R8100 / Hollowtech II 52x36 T
BB-SET
Shimano SM-BB72-41B
CHAIN
Shimano Ultegra CN-M8100-12
CASSETTE
Shimano Ultegra CS-R8100-12 / 11-30
BRAKES
Shimano BR-R8170 Hyd.Disc
ROTOR
Shimano RT-CL800 rotor 160/F and 160/R
HANDLEBAR
Syncros Creston 1.0 Compact / Carbon
H'STEM
Syncros RR 1.5 / 1 1/4"
SEATPOST
Syncros Duncan 1.0 Aero
SEAT
Syncros Belcarra Regular 2.0
HEADSET
Syncros Addict RC Integrated
WHEELSET
Syncros Capital 1.0 35 Disc / 24 Front / 24 Rear / Syncros Axle / Removable Lever with Tool
FRONT TIRE
Schwalbe ONE Race-Guard Fold / 700x28C
REAR TIRE
Schwalbe ONE Race-Guard Fold / 700x28C
APPROX WEIGHTS IN KG
7.6
APPROX WEIGHTS IN LBS
16.76
MAX. SYSTEM WEIGHT
120kg / The overall weight includes the bike, the rider, the equipment, and possible additional luggage.
Geometry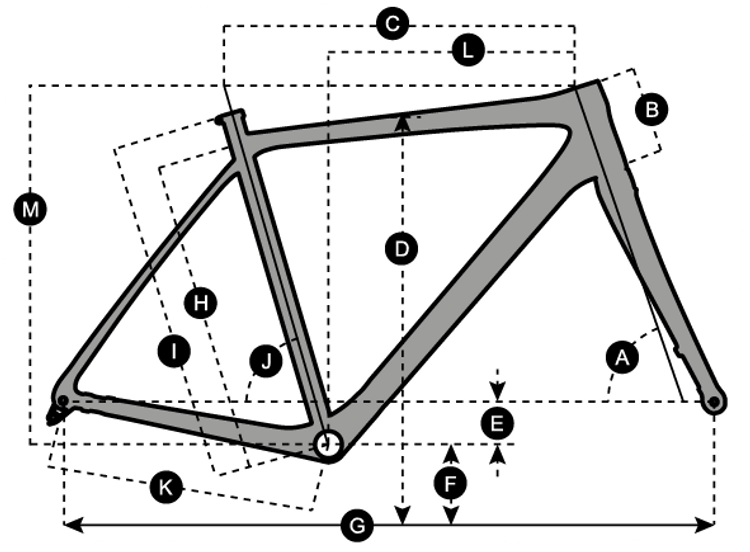 | | | | | | | | | |
| --- | --- | --- | --- | --- | --- | --- | --- | --- |
| | | XXS/47 | XS/49 | S/52 | M/54 | L/56 | XL/58 | XXL/61 |
| A | head tube angle | 70.5 ° | 71.0 ° | 72.0 ° | 72.5 ° | 73.0 ° | 73.3 ° | 73.3 ° |
| B | head tube length | 97.0 mm | 102.0 mm | 115.0 mm | 135.0 mm | 155.0 mm | 175.0 mm | 193.0 mm |
| C | top tube horizontal | 520.0 mm | 530.0 mm | 540.0 mm | 550.0 mm | 565.0 mm | 580.0 mm | 600.0 mm |
| D | standover height | 720.0 mm | 740.0 mm | 755.0 mm | 778.0 mm | 798.0 mm | 818.0 mm | 838.0 mm |
| E | BB offset | -70.0 mm | -70.0 mm | -70.0 mm | -70.0 mm | -70.0 mm | -70.0 mm | -70.0 mm |
| F | BB height | 274.5 mm | 274.5 mm | 274.5 mm | 274.5 mm | 274.5 mm | 274.5 mm | 274.5 mm |
| G | Addict RC | 987.5 mm | 994.0 mm | 991.0 mm | 992.0 mm | 1,000.0 mm | 1,008.0 mm | 1,023.0 mm |
| H | BB center to toptube center | 410.0 mm | 430.0 mm | 460.0 mm | 480.0 mm | 500.0 mm | 520.0 mm | 550.0 mm |
| I | BB center to top of seattube | 470.0 mm | 490.0 mm | 520.0 mm | 540.0 mm | 560.0 mm | 580.0 mm | 610.0 mm |
| J | seat angle | 74.5 ° | 74.5 ° | 74.0 ° | 73.6 ° | 73.3 ° | 73.0 ° | 72.5 ° |
| K | chainstay | 410.0 mm | 410.0 mm | 410.0 mm | 410.0 mm | 410.0 mm | 410.0 mm | 410.0 mm |
| L | reach | 380.0 mm | 388.0 mm | 389.0 mm | 390.0 mm | 395.0 mm | 400.0 mm | 410.0 mm |
| M | stack | 504.0 mm | 511.0 mm | 526.5 mm | 548.0 mm | 568.5 mm | 588.0 mm | 606.0 mm |
| N | stem length | 90.0 mm | 90.0 mm | 100.0 mm | 110.0 mm | 110.0 mm | 120.0 mm | 120.0 mm |
| O | centre saddle - centre bar (hor.) | 635.0 mm | 650.0 mm | 674.0 mm | 694.0 mm | 710.0 mm | 736.0 mm | 761.0 mm |
| P | centre saddle - centre bar (vert.) | 92.0 mm | 105.0 mm | 106.0 mm | 103.0 mm | 100.0 mm | 106.0 mm | 115.0 mm |
| Q | reach centre bar | 454.0 mm | 463.0 mm | 474.0 mm | 485.0 mm | 492.0 mm | 507.0 mm | 518.0 mm |
| R | stack centre bar | 563.0 mm | 570.0 mm | 586.0 mm | 607.0 mm | 627.5 mm | 649.0 mm | 667.0 mm |
---
Request Info
SCOTT Addict RC 15
Online Enquiries
Phone: 801.364.0344
Locations
Salt Lake City
989 East 900 South, Salt Lake City, UT 84105, USA
Phone: (801) 364-0344
MON-FRI: 9am to 7pm
SATURDAY: 9am to 6pm
SUNDAY: Closed
Park City
1352 White Pine Canyon Road Park City, UT 84060
Phone: (435) 214-7287
MON-FRI: 10am to 6pm
SATURDAY: 10am to 5pm
SUN: Closed