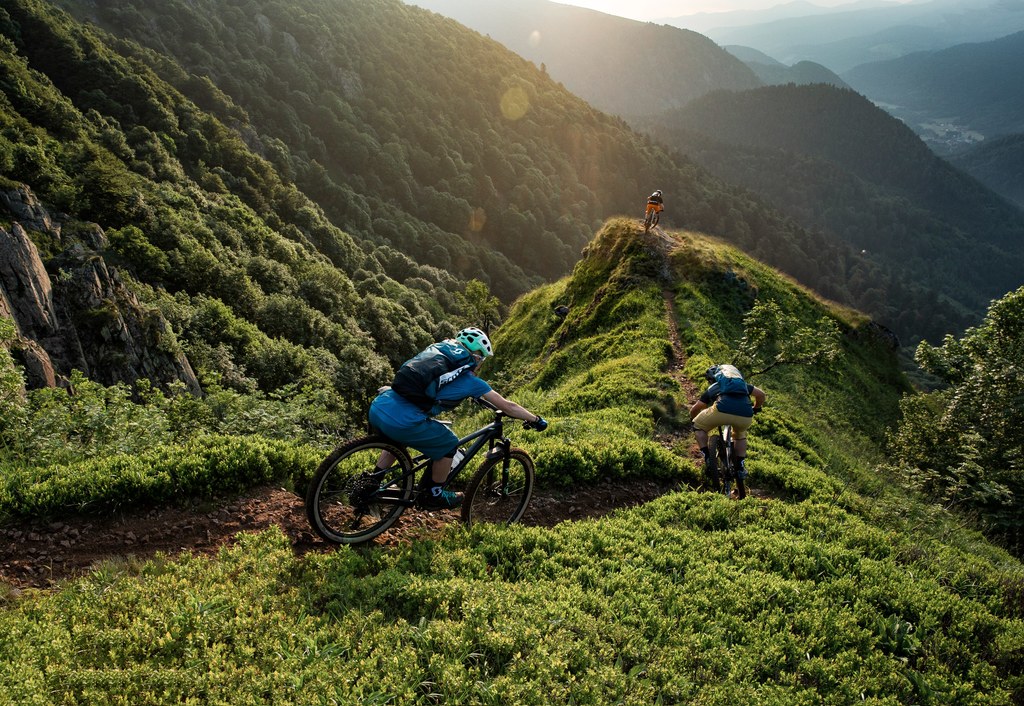 2021 SCOTT Genius 930
The 2021 SCOTT Genius 930 full suspension mountain bike is designed with one philosophy in mind - any trail, any time. With its unique functionality and adaptability, the SCOTT Genius 930 is anything you want it to be - including friendly to the old savings account.
---
Product Description
What makes the 2021 SCOTT Genius 930 full suspension all-mountain bike different allows it to be different. If you're looking for a bike that rides with either 29 inch or 27.5 inch wheels, check out the SCOTT Genius 930. Just flip a chip on the shock mount and switch from one size to the next and hit the trails. No time consuming fork swaps necessary with this bike.
Adding to the SCOTT Genius 930's versatility is the proprietary TwinLoc Suspension System. Just the flip of a switch on the handlebar mounted remote system effortlessly allows you to move between lockout, trail and descend modes on the fly. Take full advantage of every millimeter of travel in the system to maximize your ride.
A Fox 36 Float Performance fork with 130mm travel up front and Fox Nude EVOL T shock in back softens the blow on some of the gnarliest trails while the Syncros Revelstroke wheels and a Maxxis Rekon/Dissector tire combo provide reliable and consistent traction and grip.
SCOTT uses a Carbon HMF frame and alloy swingarm to give the bike a strong yet lightweight foundation. The SCOTT Genius 930 supplements that with a mix of Shimano drivetrain and Syncros components to deliver superb responsiveness while on the trail.
The 2021 SCOTT Genius 930 is truly one of the most functional bikes on the mountain. Ready to race when called on, yet perfectly suited for an all-day trailfest with the gang. Visit the shop, give us a call, or send us an email anytime to info@contenderbicycles.com.
Specifications
Frame

Genius Carbon / IMP Technology / HMF Main Frame BB92 / Alloy SL 6011 swingarm VLK Virtual 4 Link kinematic 27.5" (2.6 & 2.8) and 29" (2.4 & 2.6) tire compatible with Geo -BB adj. SW dropouts for Boost 12x148mm TBC Trunnion box construction

Fork

FOX 36 Float Performance Air Grip 3 3-Modes / Kabolt 15x110mm axle / tapered steerer 44mm offset / Reb. Adj. / Lockout / 150mm travel

Rear Shock

FOX NUDE T EVOL Trunnion SCOTT custom w. travel / geo adj. 3 modes: Lockout-Traction Control-Descend custom large Air volume / DPS / Reb. Adj. Travel 150-100-Lockout / 185X55mm

Remote System

SCOTT TwinLoc TSP Technology Suspension-Seatpost Remote below Bar / 3 modes / integ. Grip clamp
Rear Derailleur

Shimano XT RD-M8100 SGS Shadow Plus / 12 Speed

Shifters

Shimano Deore SL-M6100-IR / Rapidfire Plus Ispec EV clamp

Crankset

Shimano SLX FC-M7100-1 / Hollowtech 2 32T

Chainguide

SCOTT custom

BB-Set

Shimano BB-MT500 / shell 41x92mm

Chain

KMC X12

Cassette

Shimano Deore CS-M6100-12 / 10-51 T

Brakes

Shimano Deore M6120 4 Piston Disc

Rotor

Shimano SM-RT66 / 6 Bolt / 203/F and 180/R

Handlebar

Syncros Hixon 1.5 / Alloy 7050D.B. 12mm rise / 9° / 780mm Syncros Pro lock-on grips

H'stem

Syncros FL1.5 / Alloy 2014 integrated Spacer & Top Cap / 31.8mm / 6° / 1 1/8"

Seatpost

Syncros Duncan Dropper Post 2.0 31.6mm / S size 100mm / M size 125mm / L & XL size 150mm

Seat

Syncros Tofino 2.0 Regular CRMO rails

Headset

Syncros Pro Press Fit E2 / Tapered 1.5"-1 1/8" OD 50/62mm / ID 44/56mm

Wheelset

Syncros Revelstoke 2.5 6 Bolt F: 15x110mm, R: 12x148mm Boost 30mm Tubeless ready rim 28H / Micro Spline Syncros Axle w/Removable Lever with Tool

Front Tire

Maxxis Dissector / 2.6" / 60TPI Kevlar Bead Tubeless Ready / EXO 3C maxx Terra

Rear Tire

Maxxis Rekon / 2.6" / 60TPI Kevlar Bead Tubeless Ready / EXO 3C maxx Terra

Extras

Fox 36 Fender

Approx weights in KG

14.10

Approx weights in LBS

31.09

Max. System Weight

128 kg The overall weight includes the bike the rider the equipment and possible additional luggage.
Geometry
| | | S / 900 | | S / 700 | | M / 900 | | M / 700 | | L / 900 | | L / 700 | | XL / 900 | | XL / 700 | | | |
| --- | --- | --- | --- | --- | --- | --- | --- | --- | --- | --- | --- | --- | --- | --- | --- | --- | --- | --- | --- |
| | | LOW BB Setting | | HIGH BB Setting | | LOW BB Setting | | HIGH BB Setting | | LOW BB Setting | | HIGH BB Setting | | LOW BB Setting | | HIGH BB Setting | | | |
| A | head tube angle | 65.0 ° | | 65.6 ° | | 65.0 ° | | 65.6 ° | | 65.0 ° | | 65.6 ° | | 65.0 ° | | 65.6 ° | | | |
| B | head tube length | 95.0 mm | 3.7 in | 95.0 mm | 3.7 in | 95.0 mm | 3.7 in | 95.0 mm | 3.7 in | 110.0 mm | 4.3 in | 110.0 mm | 4.3 in | 125.0 mm | 4.9 in | 125.0 mm | 4.9 in | | |
| C | top tube horizontal | 569.7 mm | 22.4 in | 568.2 mm | 22.4 in | 602.8 mm | 23.7 in | 601.2 mm | 23.7 in | 633.4 mm | 24.9 in | 631.8 mm | 24.9 in | 670.1 mm | 26.4 in | 668.4 mm | 26.3 in | | |
| D | standover height | 739.6 mm | 29.1 in | 729.5 mm | 28.7 in | 740.8 mm | 29.2 in | 731.3 mm | 28.8 in | 758.4 mm | 29.9 in | 749.5 mm | 29.5 in | 774.1 mm | 30.5 in | 765.6 mm | 30.1 in | | |
| E | BB offset | -27.4 mm | -1.1 in | -20.0 mm | -0.8 in | -27.5 mm | -1.1 in | -20.0 mm | -0.8 in | -27.6 mm | -1.1 in | -20.0 mm | -0.8 in | -27.8 mm | -1.1 in | -20.0 mm | -0.8 in | | |
| F | BB height | 346.1 mm | 13.6 in | 340.0 mm | 13.4 in | 346.0 mm | 13.6 in | 340.0 mm | 13.4 in | 345.9 mm | 13.6 in | 340.0 mm | 13.4 in | 345.7 mm | 13.6 in | 340.0 mm | 13.4 in | | |
| G | wheel base | 1,165.9 mm | 45.9 in | 1,164.6 mm | 45.9 in | 1,198.9 mm | 47.2 in | 1,197.6 mm | 47.1 in | 1,232.1 mm | 48.5 in | 1,230.8 mm | 48.5 in | 1,271.3 mm | 50.1 in | 1,270.0 mm | 50.0 in | | |
| H | BB center to toptube center | | | | | | | | | | | | | | | | | | |
| I | BB center to top of seattube | 410.0 mm | 16.1 in | 410.0 mm | 16.1 in | 440.0 mm | 17.3 in | 440.0 mm | 17.3 in | 480.0 mm | 18.9 in | 480.0 mm | 18.9 in | 520.0 mm | 20.5 in | 520.0 mm | 20.5 in | | |
| J | seat angle | 74.7 ° | | 75.3 ° | | 74.7 ° | | 75.3 ° | | 74.8 ° | | 75.3 ° | | 74.8 ° | | 75.3 ° | | | |
| K | chainstay | 438.0 mm | 17.2 in | 436.0 mm | 17.2 in | 438.0 mm | 17.2 in | 436.0 mm | 17.2 in | 438.0 mm | 17.2 in | 436.0 mm | 17.2 in | 438.0 mm | 17.2 in | 436.0 mm | 17.2 in | | |
| L | reach | 405.9 mm | 16.0 in | 412.0 mm | 16.2 in | 439.1 mm | 17.3 in | 445.0 mm | 17.5 in | 466.1 mm | 18.4 in | 472.0 mm | 18.6 in | 499.2 mm | 19.7 in | 505.0 mm | 19.9 in | | |
| M | stack | 599.7 mm | 23.6 in | 595.5 mm | 23.4 in | 599.9 mm | 23.6 in | 595.5 mm | 23.4 in | 613.7 mm | 24.2 in | 609.2 mm | 24.0 in | 627.5 mm | 24.7 in | 622.8 mm | 24.5 in | | |
| N | stem length | 40.0 mm | 1.6 in | 40.0 mm | 1.6 in | 50.0 mm | 2.0 in | 50.0 mm | 2.0 in | 50.0 mm | 2.0 in | 50.0 mm | 2.0 in | 50.0 mm | 2.0 in | 50.0 mm | 2.0 in | | |
| 0 | trail | 117.7 mm | 4.6 in | 107.3 mm | 4.2 in | 117.6 mm | 4.6 in | 107.3 mm | 4.2 in | 117.5 mm | 4.6 in | 107.3 mm | 4.2 in | 117.4 mm | 4.6 in | 107.3 mm | 4.2 in | | |
---
Request Info
2021 Scott Genius 930
Online Enquiries
Phone: 801.364.0344
Locations
Salt Lake City
989 East 900 South, Salt Lake City, UT 84105, USA
Phone: (801) 364-0344
MON-FRI: 9am to 7pm
SATURDAY: 9am to 6pm
SUNDAY: Closed
Park City
1352 White Pine Canyon Road Park City, UT 84060
Phone: (435) 214-7287
MON-FRI: 10am to 6pm
SATURDAY: 10am to 5pm
SUN: Closed